Glorious Massive 15 ¼" Antique Jambati Temple Bowl – Perfect Pitch Eb4 & G2
---
---
Antique Jambati Bowl. Eb4 (311Hz) & G2 (97Hz) Solar Plexus & Throat Chakras
Weight 6.23 kilos (13 lb 11 ½ oz). Size 39 x 20 cm (approx. 15 ¼ x 8 inches)
Antique Jambati Bowl. Eb4 (311Hz) & G2 (97Hz) Solar Plexus & Throat Chakras
Weight 6.23 kilos (13 lb 11 ½ oz). Size 39 x 20 cm (approx. 15 ¼ x 8 inches)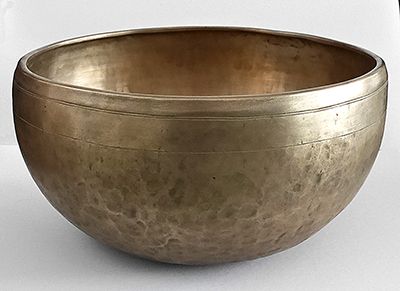 This is without doubt one of the largest and finest bowls I have come across in 30 years of collecting. It is almost certainly the best antique Jambati bowl I have been privileged to acquire. It's majestic size and graceful form is matched by two glorious perfect pitch voices…a middle octave Eb4 (311Hz) and a G2 (97Hz) harmonic. The sound of this bowl is unparalleled!
This wonderful bowl is in excellent museum quality condition inside and out. It has a tiny circle at its centre surrounded by two larger (now faint) circles. A pair of larger circles define the outer edge of the floor. The centre of this bowl is slightly raised or mounded; an unusual feature.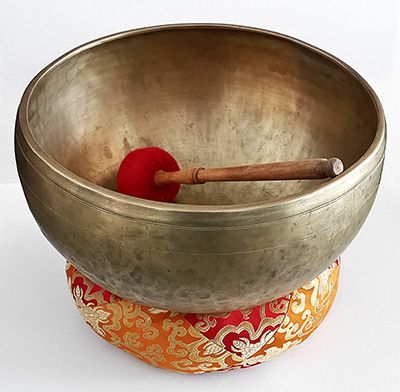 Externally there are several incised lines that form a decorative collar below the rim. The collar is satin smooth, while the area below is finely and beautifully hammered. It has a lovely golden bronze colour.
I have no hesitation in describing this wonderful instrument as an important ceremonial object of the highest order and quite possibly a TEMPLE BOWL.
A large Tibetan silk brocade bowl cushion, a heavy padded mallet and a large striker are all included in the price.
{audio}jambati6225.mp3{/audio}
Listen: (1 struck note and 1 played note)