Golden Antique Thadobati Singing Bowl – B3 Multi-Harmonic Concert Pitch
---
---
Antique Thadobati Singing Bowl. B3/C4/F#5/F6&7 Multi-Harmonic Concert Pitch
Weight 2 lb 10 oz (1.16 kilos). 19 x 9 cm (approx. 7 ½ x 3 ½ inches)
Antique Thadobati Singing Bowl. B3/C4/F#5/F6&7 Multi-Harmonic Concert Pitch
Weight 2 lb 10 oz (1.16 kilos). 19 x 9 cm (approx. 7 ½ x 3 ½ inches)
This is a multi-harmonic antique Thadobati Singing Bowl. The fundamental note switches from a third octave B (252Hz) to a perfect pitch middle C (261Hz) and back again when struck. The rim note is a powerful perfect pitch fifth octave F# (740Hz) when played with a wooden ringer, but a sixth octave F and even a seventh octave F may also be present.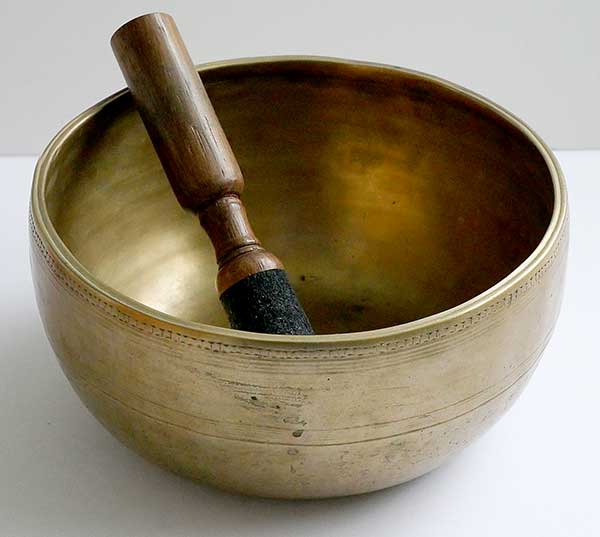 This is a pretty bowl with a grooved lip, circles at its centre, and interesting decorative bands below the outer rim and around its belly. It is in excellent structural condition, clean, with a bright golden bronze colour.
A Tibetan silk brocade bowl cushion and a double-ended teak and suede ringer are included in the price.
{audio}thado1-16.mp3{/audio}
Listen: (1 struck note and 1 played note)