Handsome Large 11 ½ " Antique Jambati Singing Bowl – Powerful A2/G#2
---
---
Jambati Singing Bowl. Notes G#2/A2 & E4 (Throat/Third Eye & Solar Plexus Chakras)
Weight 2.57 kilos (5 lb 10 ¾ oz). Size 29 x 12 cm (11 ½ x 4 ¾ inches)
Jambati Singing Bowl. Notes G#2/A2 & E4 (Throat/Third Eye & Solar Plexus Chakras)
Weight 2.57 kilos (5 lb 10 ¾ oz). Size 29 x 12 cm (11 ½ x 4 ¾ inches)
This handsome and substantial 19thcentury Jambati Singing Bowl has a powerful, vibrant, pulsating and low second octave A2 fundamental (108Hz) with a long sustain when struck with a padded mallet. When played around the rim with a suede ringer the note hovers or flickers between G#2 (106Hz) and A2 (108Hz) according to the meter. The rim note changes to a middle E4 (320Hz) with a wooden ringer.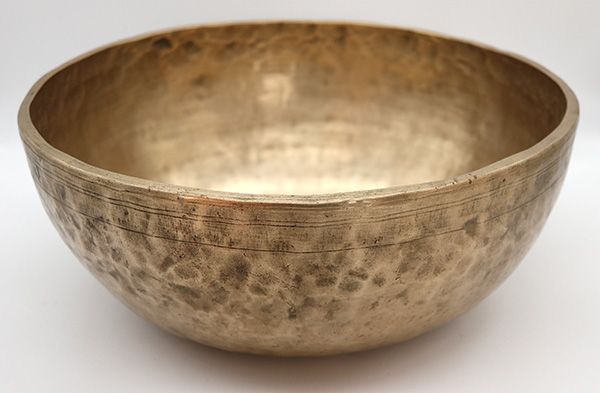 This is a substantial and well-crafted heavy bowl with a flat bottom, thick even walls, and a sheared lip. There are circles at its centre and decorative bands encircling the outer rim. It is structurally sound, with a bright golden bronze appearance that is clean and stain-free.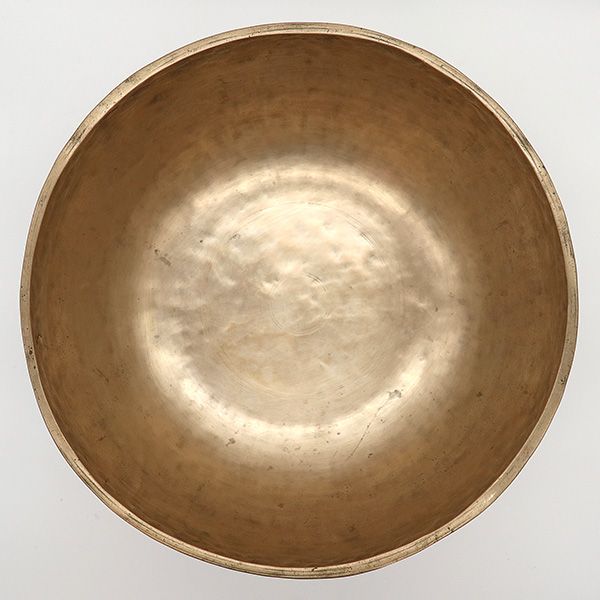 A fine example of a Jambati Singing Bowl with an excellent voice!
A Tibetan silk brocade bowl cushion, padded striker, and teak and suede ringer are all included in the price.
{audio}jambati2-57.mp3{/audio}
Listen: (2 struck notes and 1 played notes)