Handsome Large 20th Century Jambati Singing Bowl – Concert Pitch – 3 Inscriptions
---
---
20th Century Jambati Singing Bowl. Bb2 &E5 (Crown & Solar Plexus Chakras)
Weight 2.11 kilos (4 lb 10 ¼ oz). Size 22 x 13 cm (11 x 5 inches)
20th Century Jambati Singing Bowl. Bb2 &E5 (Crown & Solar Plexus Chakras)
Weight 2.11 kilos (4 lb 10 ¼ oz). Size 22 x 13 cm (11 x 5 inches)
This fine quality 20th century Jambati Singing Bowl has no less than 3 excellent inscriptions on its wall, two of which have been translated as LIFE and SUN, while the third is probably the name of a former owner. This is a large and handsome bowl with finely forged walls, a narrow grooved lip, incised decorative bands below the rim and circles at its centre.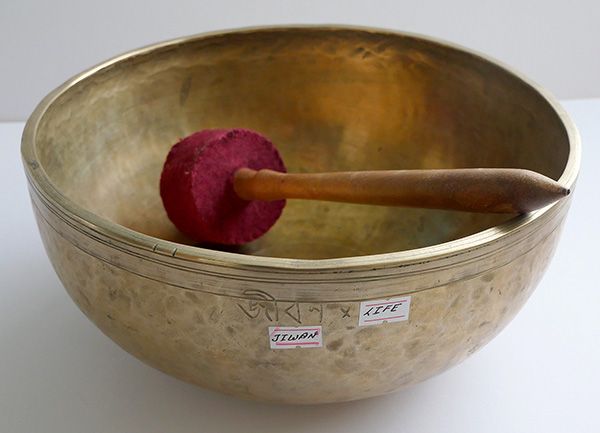 The fundamental note is a very nice low second octave Bb (114Hz) when struck with a padded mallet or played with a suede ringer. The rim note changes to a concert pitch middle F (349Hz) OR an E5 (672Hz) if a wooden ringer is employed.
This bowl is in excellent clean structural condition and has a lovely bright golden bronze colour. Two tiny deliberate cuts on the rim do not register with the ringer and have no impact on the sound. I have come across deliberate cuts like these before, but their meaning is unknown to me. A Tibetan silk brocade bowl cushion, a padded striker and a ringer are all included in the price.
{audio}jambati2.11bb2.mp3{/audio}
Listen: (3 struck notes and 2 played notes, suede then wood ringer)