Handsome Superior Quality 11 ¼" Antique Jambati Singing Bowl – Perfect Pitch D3 Voice
---
---
Antique Jambati Singing Bowl. Notes: D3 & Bb4 (Sacral & Third Eye Chakras)
Weight 1.92 kilos (4 lb 3 ½ oz). Size 28.5 x 14.5 (11 ¼ x 5 ¾ inches)
Antique Jambati Singing Bowl. Notes: D3 & Bb4 (Sacral & Third Eye Chakras)
Weight 1.92 kilos (4 lb 3 ½ oz). Size 28.5 x 14.5 (11 ¼ x 5 ¾ inches)
This is a handsome large 11 ¼" Superior Quality Antique Jambati Singing Bowl with a powerful pulsating third octave D3 fundamental (149Hz) with a long sustain when struck with a padded mallet, that becomes perfect pitch (147Hz) when played around the rim with a suede ringer. The rim note changes to middle Bb4 (454Hz) when played with a wooden one.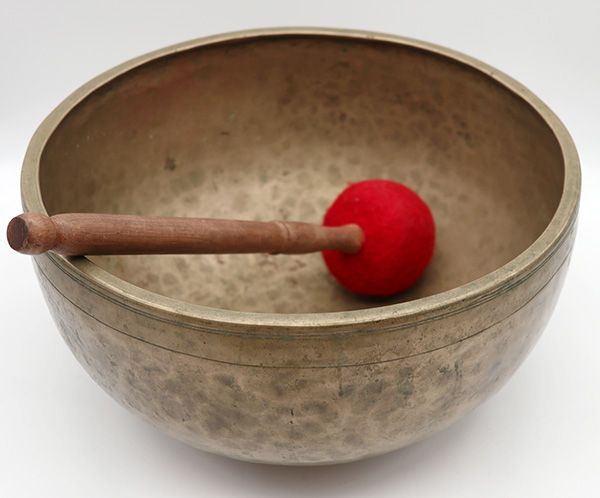 This stunning bowl has a really lovely full-bodied form. Its finely hammered walls make it relatively light for its size and therefore comfortable to hold and play for an extended period. It has a grooved triangulated lip, with decorative bands encircling the outer rim and circles at the centre.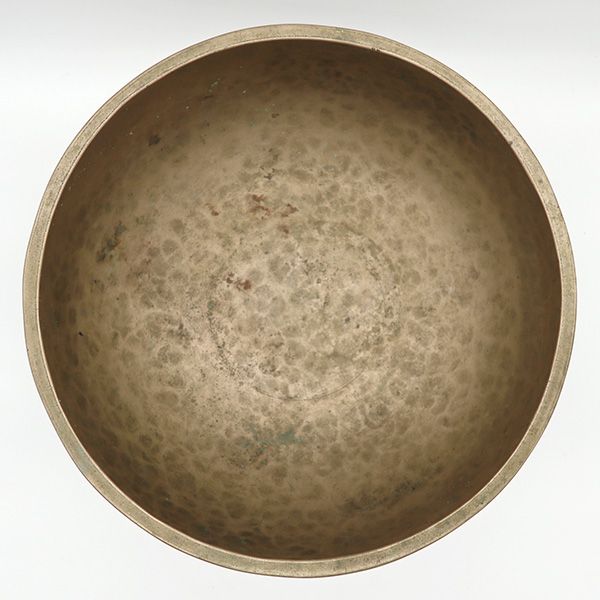 It is unusually clean and stain-free despite its antiquity, and has an attractive matt bronze colour. It is structurally sound save for a stable and barely noticeable 4cm hairline crack on the floor. This is a cosmetic issue that you would struggle to find (I didn't) and has no impact on the sound quality. However, this cosmetic issue has been taken into account and reflected in the price.
A Tibetan silk brocade bowl cushion, padded striker, and 2 ringers are all included in the price.
{audio}jambati1-922.mp3{/audio}
Listen: (3 struck notes and 2 played notes, suede ringer then wood)