Heavy 11" Antique Jambati Bowl – D4 Fundamental and G2 Harmonic, Inscrption
---
---
Antique Jambati Singing Bowl. D4 (302Hz) Sacral Chakra
Weight 5 lb 6 ¼ oz (2.45 kilos). 28 x 13 cm (approx. 11 x 5 inches)
Antique Jambati Singing Bowl. D4 (302Hz) Sacral Chakra
Weight 5 lb 6 ¼ oz (2.45 kilos). 28 x 13 cm (approx. 11 x 5 inches)
This large Circa 1800 Jambati bowl has an excellent middle octave D (302Hz) fundamental whether struck with a padded mallet or played around the rim. The struck note has an exceptionally impressive long sustain. There is also a low second octave G harmonic.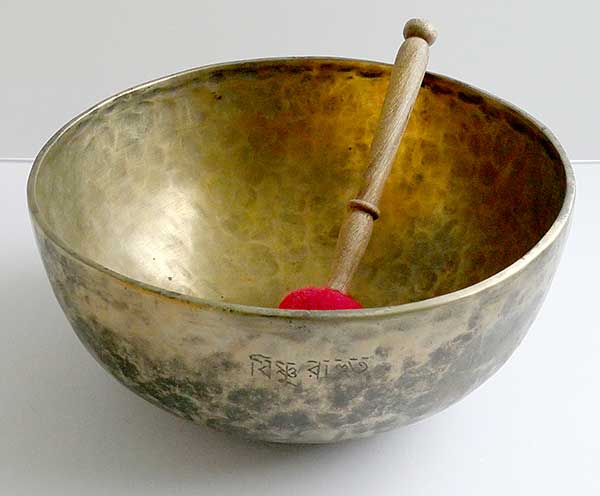 This premium quality bowl shows evidence of a long life as might be expected, and any decorative features it might once have possessed have been all but worn away. However, it's a very attractive bowl and its structural condition is good. It has particularly nice hammer markings and patina on the outer wall, and a beautiful smooth golden interior.
It also benefits from a very clear engraved inscription on the outer wall…a fair indication of the high esteem in which it was held by a former keeper.
A Tibetan silk brocade bowl cushion, a padded striker and a ringer all all included in the price.
{audio}jambati2450d4.mp3{/audio}
Listen: (2struck notes and 1 played note)