Heavy Large Antique Manipuri Singing Bowl – Virtually Concert Pitch G3 (195Hz)
---
---
Antique Manipuri Singing Bowl. G3 (195Hz) Throat Chakra
Weight 2 lb 6 ¼ oz. (1.08 kilos). Size 21.5 x 7 cm (8 ½ x 2 ¾ inches)
Antique Manipuri Singing Bowl. G3 (195Hz) Throat Chakra
Weight 2 lb 6 ¼ oz. (1.08 kilos). Size 21.5 x 7 cm (8 ½ x 2 ¾ inches)
This is an exceptionally large and heavy 19th century Manipuri Singing Bowl. The fundamental note is a fabulous low third octave G (195Hz) that is virtually concert pitch when struck or played with a suede ringer. The rim note changes to a very nice fifth octave C# when played with a wooden one. It is a extremely responsive bowl and easy to play.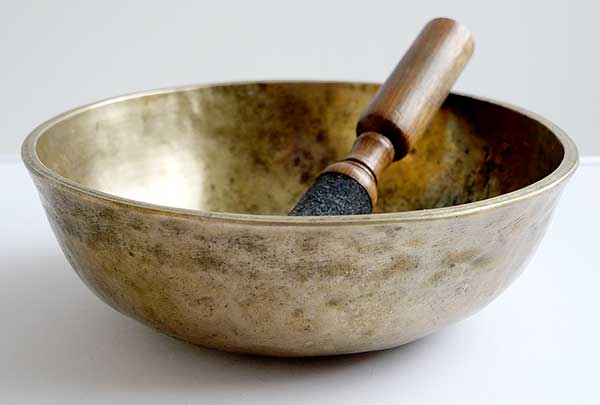 It has an unusually thick wall for a Manipuri bowl, which is just as well as it has seen a lot of use in its long life…the centre circles having been worn away from use over the passage of time, and although the outer wall is free of blemishes the interior floor is somewhat stained. Interestingly, in this case, they simply add to the character of the bowl; enhancing the look and feel of its antiquity.
This is a rare and truly lovely old bowl…large, heavy and thick-walled, and with a great voice!
{audio}manipuri1080g3.mp3{/audio}
Listen: (2 struck notes and 2 played notes, suede ringer then wood)