Heavy Medium-Size Antique Manipuri Singing Bowl – Excellent C4 & F#5
---
---
Antique Manipuri Singing Bowl. C4 (257Hz) Root Chakra
Weight 1 lb 7 ¼ oz. (659 grams). Size 18 x 6.5 cm (7 x 2 ½ inches)
Antique Manipuri Singing Bowl. C4 (257Hz) Root Chakra
Weight 1 lb 7 ¼ oz. (659 grams). Size 18 x 6.5 cm (7 x 2 ½ inches)
This is a nice quality 19th Century medium-size Manipuri Singing Bowl. The fundamental note is an exceptionally nice middle C (257Hz) when struck or played with a suede ringer, and F#5 when played around the rim with a wooden one.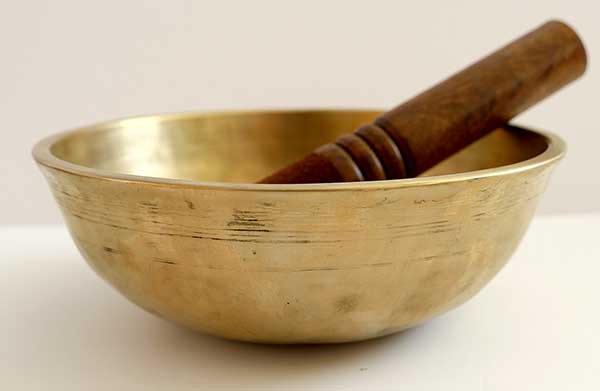 It is heavy for its size, with a wide and slightly splayed lip that was once grooved but is now fairly smooth. There are circles at its centre and high up on the inside wall, and there are several decorative bands below the outer rim that are typical of this type and age of bowl.
It is in excellent clean structural condition and has a lovely antique golden bronze colour. A Tibetan silk brocade bowl cushion and a double-ended teak and suede ringer are included in the price.
Note: Audio clips coming soon.