Heavy Small/Medium-Size 8 ½" Antique Jambati Singing Bowl – Bb3 (230Hz)
---
---
Antique Jambati Singing Bowl. Note Bb3 (Crown Chakra)
Weight 1.12 kilos (2 lb 7 ½ oz). Size 22 x 8.5 cm (8 ½ x 3 ¼ inches)
Antique Jambati Singing Bowl. Note Bb3 (Crown Chakra)
Weight 1.12 kilos (2 lb 7 ½ oz). Size 22 x 8.5 cm (8 ½ x 3 ¼ inches)
This nice quality small to medium antique Jambati Singing Bowl has quite thick walls and is therefore heavier than usual for its size. It has a particularly nice regular lip with decorative bands below the outer rim, and a gracefully curved wall that rises from a smallish flat bottom. This is an older bowl and the decorative circles at its centre have long since vanished with ritual cleaning over the passage of time.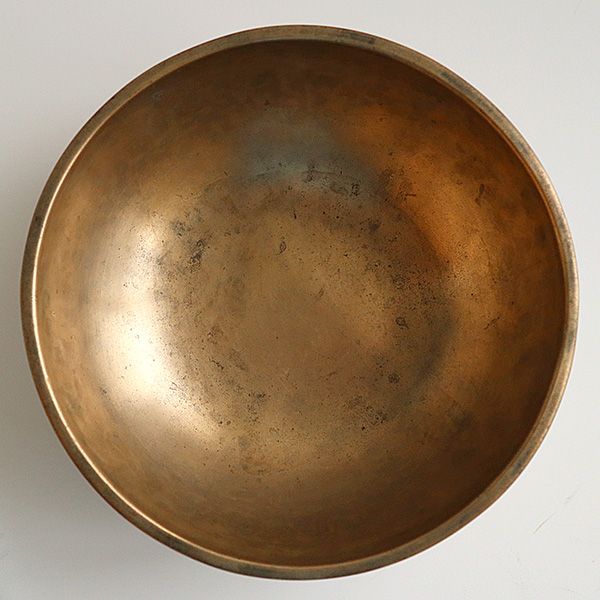 The fundamental note is a sweet third octave Bb (230Hz) with a pronounced pulse and a long sustain. The note is the same Bb3 whether struck with a padded mallet or played around the rim with a suede ringer.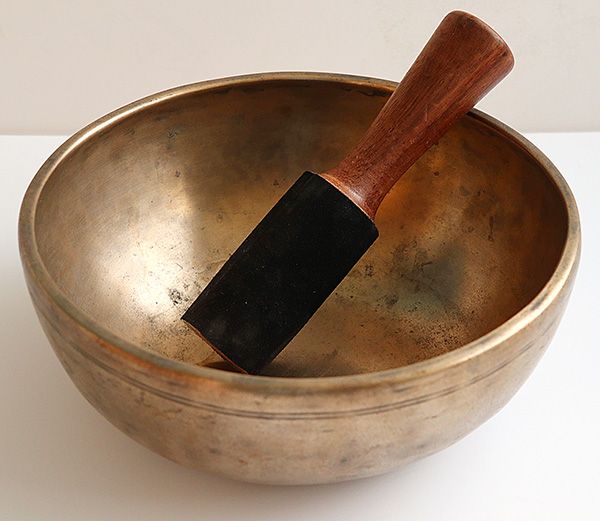 This attractive antique bowl is structurally sound, clean and virtually free of stains.
A Tibetan silk brocade bowl cushion, a padded striker and a ringer are all included in the price.
{audio}jambati1.12b.mp3{/audio}
Listen: (3 struck notes and 2 played notes, suede then wood ringer)