Huge 12 ½ – Inch Antique Jambati Singing Bowl – G2 & Eb4 – Inscription
---
---
Antique Jambati Singing Bowl. Notes: G2 & Eb4 (Throat & Solar Plexus Chakras)
Weight 6 lb 0 ¼ oz. (2.74 kilos). Size 31.5 x 15 cm (12 ½ x 6 inches)
Antique Jambati Singing Bowl. Notes: G2 & Eb4 (Throat & Solar Plexus Chakras)
Weight 6 lb 0 ¼ oz. (2.74 kilos). Size 31.5 x 15 cm (12 ½ x 6 inches)
This huge antique singing bowl is a perfect example of the classic Jambati form, with its gracefully curved wall being approximately half the height of its diameter. It has a grooved triangulated lip, decorative bands encircling the outer rim, and circles at its centre. This is a beautifully forged example with a finely hammered wall, and it benefits from a small engraved inscription set between the bands below the rim.
The fundamental struck note is a low second octave G (99Hz) that is very close to perfect concert pitch. The rim note is the same G2 accompanied by a middle Eb (303Hz) and a G3 (197Hz) harmonic when played with a suede ringer, the dominant rim note being the Eb4 with the G2 humming in the background.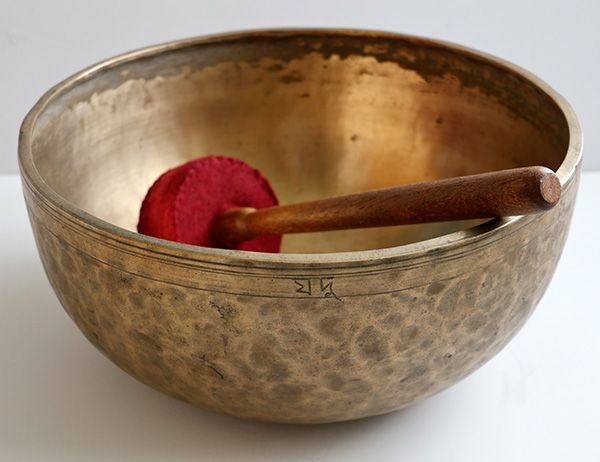 The structural condition of this antique bowl is excellent, and it is virtually free of stains and blemishes.
A Tibetan silk brocade cushion, a padded striker, and a suede ringer are all included in the price.
{audio}jambati2.74g2.mp3{/audio}
Listen: (3 struck notes and 1 played note)