Huge 13-inch Jambati Singing Bowl – Concert Pitch B2 (125 Hz)
---
---
Antique Jambati Singing Bowl – B2 (Crown Chakra)
Weight 3.47 kilos (7 lb 10 oz)   13 x 6 inches (33 x 15 cm)
This is a huge and majestic antique Jambati Singing Bowl weighing almost 3.5 kilos and with a diameter of 13 inches!  Its great weight and size has a voice to match…a wonderful pulsating low second octave B that is virtually concert pitch (125 Hz).  The rim note is the same B2 when played with a suede ringer, but if a wooden one is used the note changes to a middle octave G.  If played with a little water inside this Jambati bowl is capable of producing great fountains.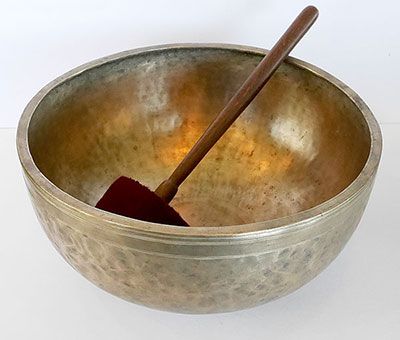 This huge bowl is charcteristic of the Jambati form…beautiful curved deep body, large inward facing triangulated grooved lip, large concentric circles at its centre, and several incised lines forming a collar below the rim, and superb closely-hammered forge markings on the outer wall that add surface interest and reflect the light.
Everything about this is premium quality…from its construction to its sound quality.  It has a lovely golden colour, and is clean and structurally sound.
It would make a centrepiece in any collection, but would equally stand alone as a special instrument.  Bowls of this size and quality are few and far between…and less so when concert pitch.
A Tibetan silk brocade bowl cushion, a padded striker, and a teak and suede ringer are included in the price.
{audio}jambati3470b2.mp3{/audio}
Listen: (3 struck notes and 2 played notes)
SOLD