Huge Premium Quality 13″ Antique Jambati Bowl – Concert Pitch D2 (74Hz) & Long Sustain
---
---
Antique Jambati Singing Bowl. Notes D2 & A3 (Sacral and Third Eye Chakras)
Weight 2.8 kilos (6 lb 2 ¾ oz). Size 33 x 15 cm (Approx. 13 x 6 inches)
Antique Jambati Singing Bowl. Notes D2 & A3 (Sacral and Third Eye Chakras)
Weight 2.8 kilos (6 lb 2 ¾ oz). Size 33 x 15 cm (Approx. 13 x 6 inches)
This huge Antique Jambati Singing Bowl has a stunning Concert Pitch second octave D fundamental (74Hz) with a powerful pulse and very long sustain when struck with a padded mallet or played around the rim with a suede ringer. The rim note readily becomes a third octave A (217/18Hz) harmonic if desired. And this bowl is also capable of producing the vibrant and sought-after OM sound.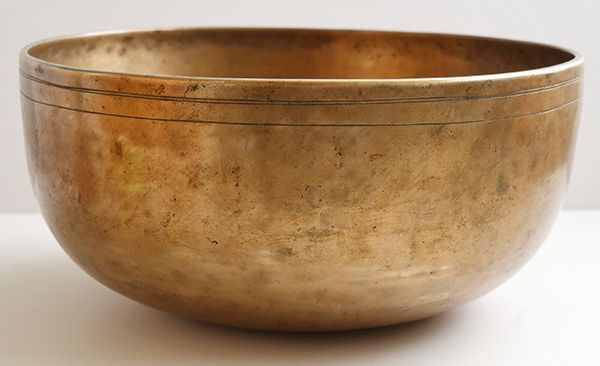 This premium quality hand-beaten bowl's high straight-sided wall has been worn sensually smooth with the passage of time. It's fine wall makes it relatively light for its size, and a pleasure to hold and play. It has a sheered lip and decorative bands encircling the outer rim, but the circles at its centre have now all but vanished.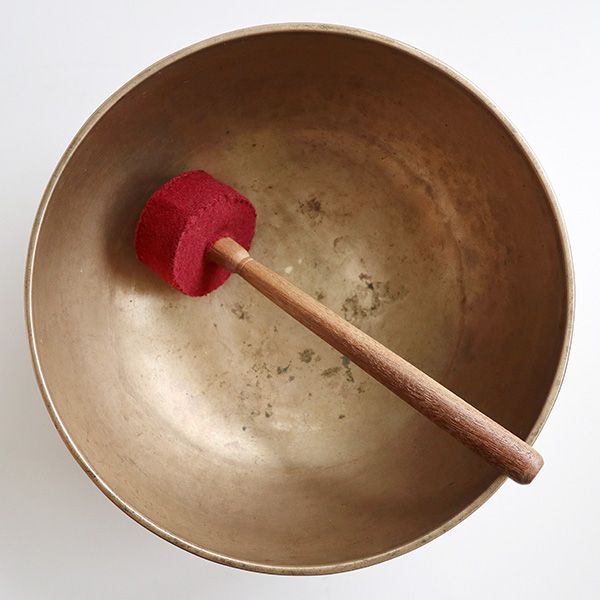 Antique Jambati Singing Bowls of this exceptional size and quality are now virtually impossible to find in the Himalayas, and this particularly beautiful example has a great voice and is structurally sound and virtually free of stains and blemishes.
A fabulous old bowl and a truly rare find!
A Tibetan silk brocade bowl cushion, a padded striker and a ringer are all included in the price.
{audio}jambati2.8d2.mp3{/audio}
Listen: (2 struck notes and 1 rim note with a suede ringer)