Huge Rare 12 ½" Antique Jambati Singing Bowl in 'As Found' Condition – G2 & OM
---
---
Antique Jambati Bowl. Notes G2 & D4 (Throat & Sacral Chakras)
Weight 2.64 kilos (5 lb 13 oz). Size 31.5 x 16 cm (12 ½ x 6 ¼ inches)
Antique Jambati Bowl. Notes G2 & D4 (Throat & Sacral Chakras)
Weight 2.64 kilos (5 lb 13 oz). Size 31.5 x 16 cm (12 ½ x 6 ¼ inches)
This huge and wonderful antique Jambati Singing Bowl is supplied in its 'as found' condition; unwashed with all the dirt, dust, and patina acquired from long use and neglect during its lifetime. With a little effort it could probably be cleaned up and made to look like the shiny golden bowls we are all familiar with…but I personally like it as it is, with bags of character, its life-story intact, and the look and feel of great antiquity.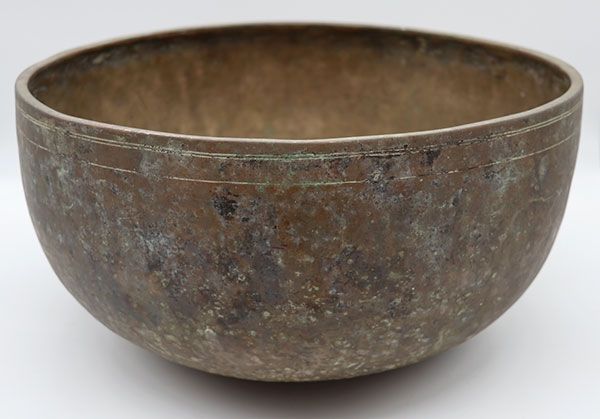 This superb bowl was recently sourced in the Indian Himalayas and dates from the 1800s or perhaps a little earlier. Its great size and quality suggest that it might have been originally commissioned for a temple or monastery.
The fundamental note is an excellent low second octave G2 (95.5Hz) with a long sustain when hand-held and struck with a padded mallet or played around the rim with a suede ringer. It has a pronounced pulse or beat. The rim note changes to a powerful middle octave D4 (289Hz) with a wooden ringer. Its vibrant energy will also produce the OM sound. It is extremely responsive and easy to play.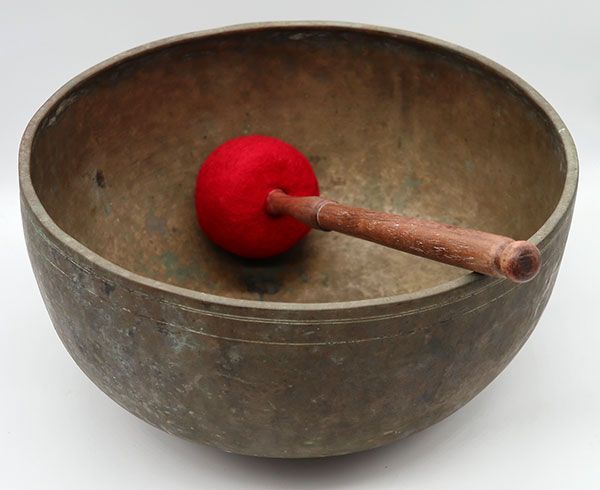 It has smooth high walls, a rounded bottom, and a sheered slightly triangulated lip. There are faint circles at its centre, and decorative incised bands encircling the outer rim. It is in excellent structural condition, and has an amazing aged patina and colour.
It is extremely difficult nowadays to find any antique bowls over 11 inches, and they are highly sought-after by antique dealers and collectors alike. A bowl of this type, size and quality rarely comes to light.
This is a rare opportunity to acquire a fabulous large bowl with bags of character and an excellent voice.
A large Tibetan silk brocaded bowl cushion, padded striker, and two ringers are all included in the price.
{audio}jambati2-64.mp3{/audio}
Listen: (2 struck notes and 2 played notes, suede ringer then wood)