Huge Thadobati Singing Bowl of Uncertain Age – Low Bb2 & Concert Pitch E4
---
---
Huge Thadobati Singing Bowl. Note Bb2 & E4 (Crown & Solar Plexus Chakra
s)
Weight 4 lb 0 ½ oz. (1.83 kilos). Size 25.5 x 11.5 cm (approx. 10 x 4 ½ inches)
Huge Thadobati Singing Bowl. Note Bb2 & E4 (Crown & Solar Plexus Chakra
s)
Weight 4 lb 0 ½ oz. (1.83 kilos). Size 25.5 x 11.5 cm (approx. 10 x 4 ½ inches)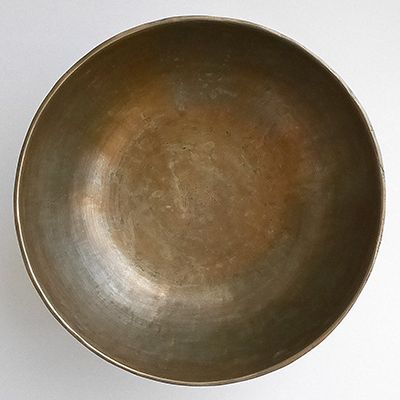 This is a very large and interesting Thadobati Singing Bowl with two good voices…a low second octave Bb (115Hz) when struck with a padded mallet, and a concert pitch middle E (329Hz) when played around the rim.
This is quite a characterful bowl with lots of surface interest with hammered and smooth areas on the outer wall and sun motif decoration below the rim and set within concentric circles on the inside floor. However, the suns are not as precisely placed as usual, and this leaves me wondering if they were added later.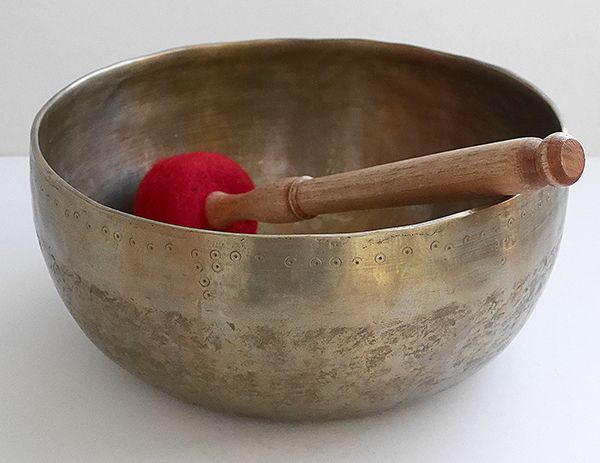 My guess is that it is a mid 20th century bowl, possibly later, so I prefer to say it is of uncertain age, and this is reflected in its price. Nonetheless, this is a huge and impressive hand-forged Thadobati bowl with a beautiful golden colour…and it sings well. A double-ended teak and suede ringer is included in the price.
Note: Audio clips coming soon.