Incredible 9 ¾ " Engraved Antique Jambati Bowl from Bangladesh – Perfect Pitch F3
---
---
Engraved Jambati Singing Bowl F3 & C#5 (Heart & Root Chakras)
Weight 1.33 kilos (2 lb 14 ¾ oz). Size 24.5 x 12 cm (9 ¾ x 4 ¾ inches)
Engraved Jambati Singing Bowl F3 & C#5 (Heart & Root Chakras)
Weight 1.33 kilos (2 lb 14 ¾ oz). Size 24.5 x 12 cm (9 ¾ x 4 ¾ inches)
This astonishing large 9¾ inch antique Jambati singing bowl from Bangladesh is one of the finest hand-beaten and carved bowls that I have encountered in over 30 years of collecting, and a true work of art! It features no less than 51 carved animals, and also has a perfect pitch voice!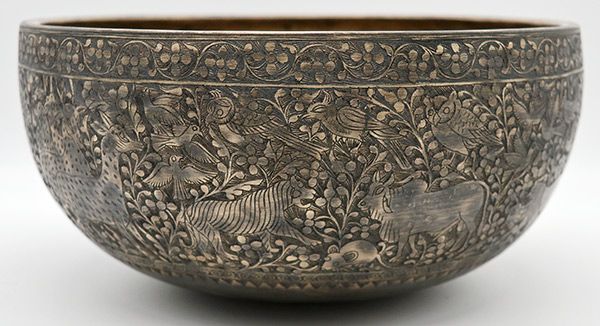 Almost the entire outer surface has been hand carved with a forest scene filled with animals. There are 9 deer, 4 tigers, 4 buffalo or bison, a lion, a horse, 3 rabbits, 2 mice, an owl and 26 other birds! This incredible scene is bordered top and bottom by decorative patterned bands.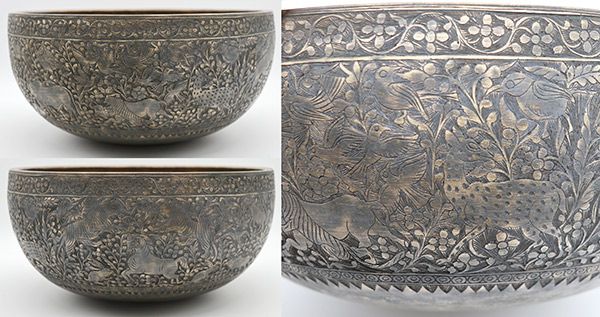 The fundamental struck note is a lovely perfect pitch third octave F3 (175Hz) when struck with a padded mallet or played around the rim with a suede ringer. The rim note changes to a fifth octave C#5 (543Hz) with a wooden ringer.
This old bowl has been superbly forged and is structurally sound and in superb condition. It is difficult to date the carving but I am confident that the bowl itself is antique. The incredible decoration is unique and unlike any of the modern engraved or etched bowls found in Nepal today.
This stunning bowl was purchased by myself in Kathmandu from the only known source of this carved type; a Bangladeshi bowl dealer who brought a few to Nepal in a suitcase to sell. He said the motifs were taken from carpets and traditional paintings.
It is undoubtedly an example of the finest craftsmanship to be found anywhere in the singing bowl world.
A Tibetan silk brocade bowl cushion, a padded striker, and a ringer are all included in the price.
Note: Audio clips coming soon.