Interesting Large 10 ½ " Antique Jambati Singing Bowl – Wonderful F#3 Voice
---
---
Antique Jambati Singing Bowl. Notes: F#3 & D5 (Heart & Sacral Chakras)
Weight 3 lb 14 oz. (1.76 kilos). Size 26.5 x 11 cm (10 ½ x 4 ¼ inches)
Antique Jambati Singing Bowl. Notes: F#3 & D5 (Heart & Sacral Chakras)
Weight 3 lb 14 oz. (1.76 kilos). Size 26.5 x 11 cm (10 ½ x 4 ¼ inches)
This large antique Jambati Singing Bowl has a graceful form and an exceptionally beautiful F#3 voice. The fundamental note when struck with a padded mallet or played around the rim with a suede ringer is a third octave F# (190Hz). The rim note changes to a lovely fifth octave D (603Hz) with a wooden ringer.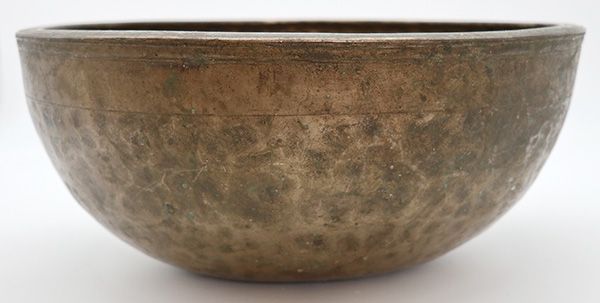 This antique bowl has a gracefully curved wall and an unusual and particularly wide and grooved inward-facing lip that is also slightly splayed, projecting beyond the outer curvature of the wall. There are circles at its centre, and incised bands around the outer rim form a decorative collar.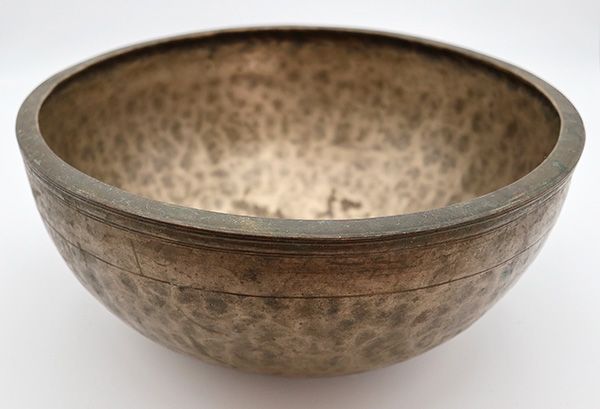 It is in excellent structural condition, with a clean exterior and an aged patina. There are some stains inside that could probably be removed with some effort if desired.
An interesting antique Jambati with a stunning voice!
A padded striker, and a double-ended teak and suede ringer are included in the price.
{audio}jambati1-76.mp3{/audio}
Listen: (3 struck notes and 2 played notes, suede ringer then wood)