Interesting Rare Large Antique Manipuri Singing Bowl – F4 & Bb2 Fountains & Suns
---
---
Antique Manipuri Singing Bowl. F4 (342Hz) Heart Chakra
Weight 2 lb 14 ½ oz (1.32 kilos). 25 x 8.5 cm (approx. 9 ¾ x 3 ¼ inches)
Antique Manipuri Singing Bowl. F4 (342Hz) Heart Chakra
Weight 2 lb 14 ½ oz (1.32 kilos). 25 x 8.5 cm (approx. 9 ¾ x 3 ¼ inches)
This interesting and rare large Manipuri Singing Bowl has a rather haunting F4 fundamental (352Hz) when struck with a padded mallet or played around the rim with a wooden ringer, and a pulsating sustain. Very surprisingly, a suede ringer produces a low second octave Bb2 harmonic (119Hz) that will make excellent vibrant fountains if played with water inside the basin.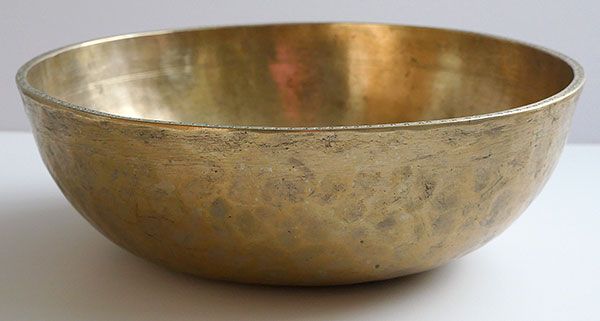 This 19th century Manipuri with its 9 ¾-inch diameter is exceptionally large and heavy for this bowl form. The inside floor of the bowl features a decorative band of sun symbols (dot within a circle) set between a pair of concentric circles which surround a hand-drawn lotus. The top of the rim is also decorated with suns, and there is a pair of incised lines encircling the inner rim.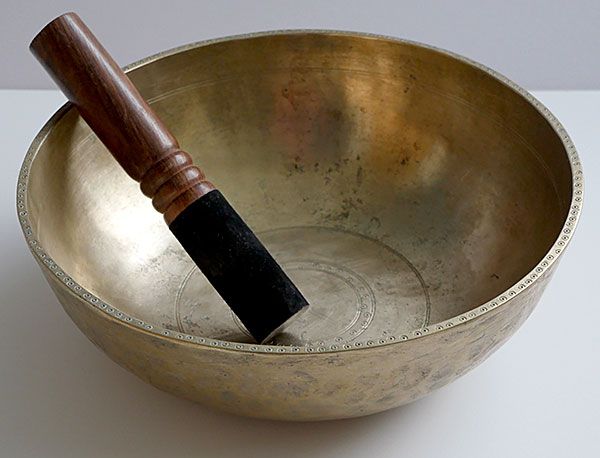 This fascinating Manipuri bowl is in good structural condition, basically clean but with some light pitting inside.
A Tibetan silk brocade bowl cushion, padded striker, and a ringer are all included in the price.
{audio}manipuri1.32.mp3{/audio}
Listen: (2 struck notes and 2 played notes, suede ringer then wood)