Interesting Tiny Antique Singing Bowl – F#4/G4
---
---
Antique Singing Bowl – F#4/G4 (377 – 386) Heart/Throat Chakras
Weight 218 grams (0 lb 7¾ oz) Size 4 x 2 inches (10 x 5 cm)
Antique Singing Bowl – F#4/G4 (377 – 386) Heart/Throat Chakras
Weight 218 grams (0 lb 7¾ oz) Size 4 x 2 inches (10 x 5 cm)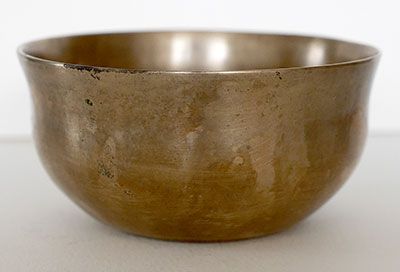 This is a tiny antique singing bowl with an unusual shape and an interesting voice that wavers between a middle F# (377Hz) to a middle G (386Hz) depending upon where it is struck and the type of striker employed. The rim note is a sixth octave A (1810Hz) if played with a wooden ringer.
It's a responsive bowl, with good volume for its size, and easy to play. A small ringer is included in the price.
This bowl has a very pretty shape with a smooth fine wall that flares out towards the rim. It has a very unusual bottom as can be seen from the photo. It is structurally sound and virtually free of blemishes, and feels exceptionally nice in the hand.
Note: Audio clips coming soon.