Large 10 ¼" Antique Jambati Singing & Fountain Bowl – Low A2 and OM
---
---
Antique Jambati Singing Bowl. Notes: A2 & F4 (Third Eye & Heart Chakras)
Weight 3 lb 10 ¼ oz. (1.65 kilos). Size 26 x 12 cm (10 ¼ x 4 ¾ inches)
Antique Jambati Singing Bowl. Notes: A2 & F4 (Third Eye & Heart Chakras)
Weight 3 lb 10 ¼ oz. (1.65 kilos). Size 26 x 12 cm (10 ¼ x 4 ¾ inches)
This is a large Antique Jambati Singing Bowl with a low and rare 2ndoctave A (113Hz) fundamental when struck with a padded mallet or played around the rim with a suede ringer, and a middle F harmonic (344Hz) rim note if played with a wooden one. It has lots of vibrant energy and will readily produce fountains if played with a little water inside, and it is also capable of producing the vibrant OM sound.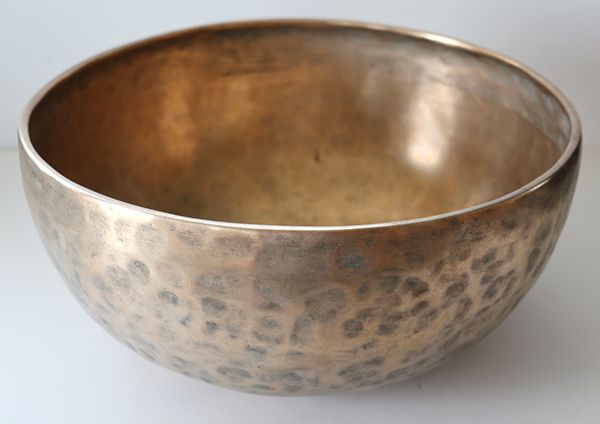 This is an older finely forged bowl with attractive evenly hammered walls and a sheered lip. There is a faint circle at its centre but any other decorative features it may once have possessed have been worn away with the passage of time.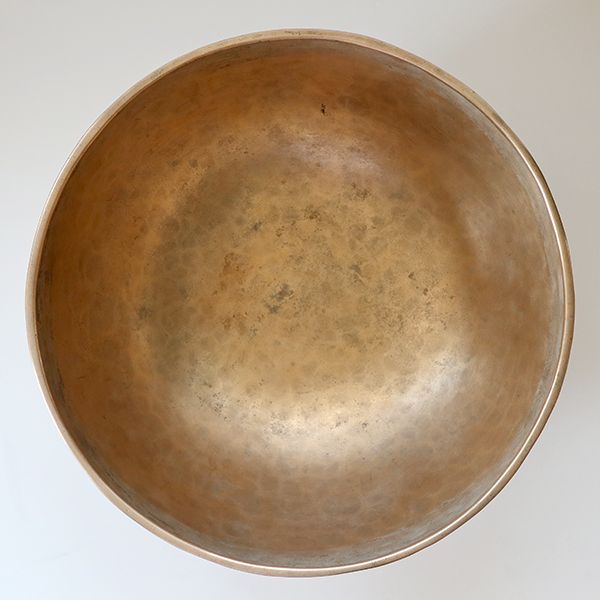 The structural condition of this antique bowl is excellent, and it is clean and free of blemishes.
A Tibetan silk brocade bowl cushion, a padded striker and a ringer are all included in the price.
Note: Audio clips coming soon.