Large 10 ½" Antique Jambati Singing Bowl – Two Excellent Voices C3 & G#4
---
---
Antique Jambati Singing Bowl. Notes: C3 & G#4 (Root & Throat & Chakras)
Weight 1.70 kilos (3 lb 12 oz). Size 26.5 x 12.5 (10 ½ x 5 inches)
Antique Jambati Singing Bowl. Notes: C3 & G#4 (Root & Throat & Chakras)
Weight 1.70 kilos (3 lb 12 oz). Size 26.5 x 12.5 (10 ½ x 5 inches)
This large 10½" Antique Jambati Singing Bowl has two excellent voices – a pulsating third octave C3 (134Hz) with a long sustain when struck with a padded mallet or played around the rim with a suede ringer, and middle G#4 (413Hz) when played with a wooden one. It is a very responsive and easy to play bowl.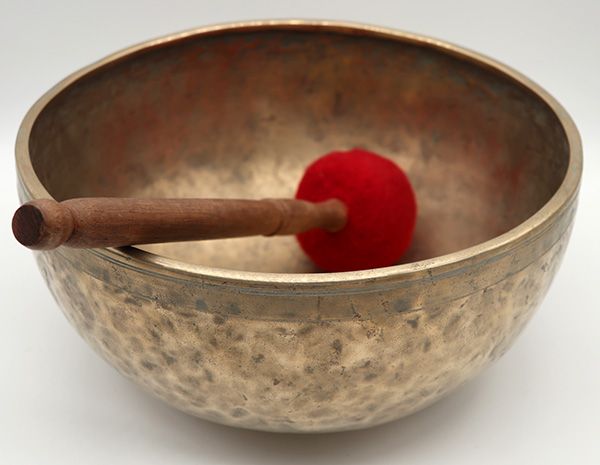 It has the classic Jambati form with a finely hammerred wall, triangulated lip, and decorative bands encircling the outer rim. The circles at its centre have been worn away with use over the passage of time.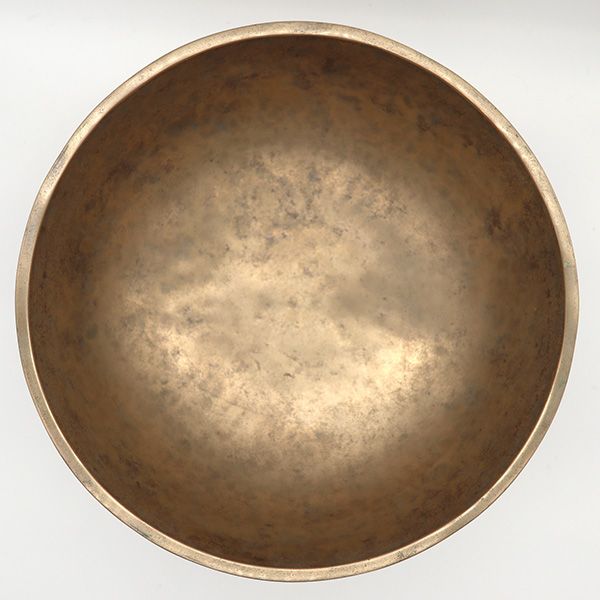 This superbly crafted bowl is in excellent structural condition, clean and free from stains, with a bright golden bronze colour.
A Tibetan silk brocade bowl cushion, padded striker, and a double-ended teak and sued ringer are all included in the price.
{audio}jambati1-7.mp3{/audio}
Listen: (3 struck notes and 2 played notes, suede ringer then wood)