Large 11 ½ " Antique Jambati Singing & Fountain Bowl – Low E2 and B3 – Small Inscrition
---
---
Antique Jambati Singing Bowl. Notes: E2 & B3 (Solar Plexus & Crown Chakras)
Weight 4 lb 14 oz. (2.44 kilos). Size 29 x 13 cm (1 ½ x 5 inches)
Antique Jambati Singing Bowl. Notes: E2 & B3 (Solar Plexus & Crown Chakras)
Weight 4 lb 14 oz. (2.44 kilos). Size 29 x 13 cm (1 ½ x 5 inches)
This large antique Jambati Singing Bowl has a vibrant low second octave E fundamental (84Hz) when struck with a padded mallet and a third octave B (244Hz) when played around the rim with a suede or wooden ringer. It is also capable of producing fountains if played with a little water inside.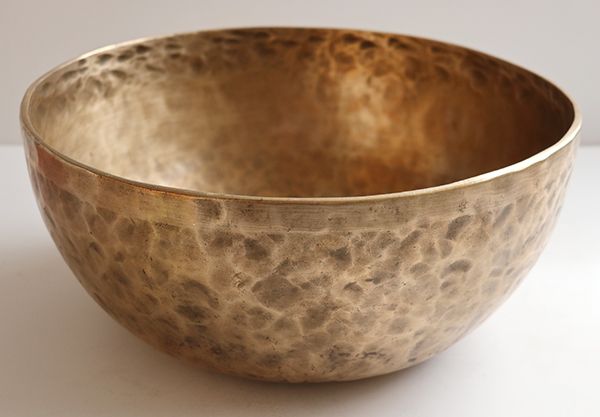 This large bowl has finely forged walls and is therefore relatively light for its size, making it suitable for handheld playing as well as playing whilst it rests on a cushion. There are circles at its centre and there is a small dot-punched inscription high up on the outer rim. Surface interest has been created by contrasting bold hammer markings with smooth areas inside and out.
It is in excellent structural condition for its age, has a nice golden bronze colour, and is free of stains and blemishes
A Tibetan silk brocade cushion, a padded striker, and a suede ringer are all included in the price.
Note: Audio clips coming soon.