Large 11 " Antique Jambati Singing Bowl – G#2 – Beautiful Voice & Incredible Sustain
---
---
Jambati Singing Bowl. Notes G2 & Eb4/5 (Throat & Solar Plexus Chakras)
Weight 2.22 kilos (4 lb 14 ¼ oz). Size 28 x 12.5 cm (11 x 5 inches)
Jambati Singing Bowl. Notes G2 & Eb4/5 (Throat & Solar Plexus Chakras)
Weight 2.22 kilos (4 lb 14 ¼ oz). Size 28 x 12.5 cm (11 x 5 inches)
This gracefully curved antique Jambati Singing Bowl has a beautiful low and solemn (to my ear) pulsating second octave G#2 fundamental (105Hz) with an incredibly long sustain when struck with a padded mallet or played around the rim with a suede ringer. The rim note varies between a middle Eb4 (318Hz) and a fifth octave Eb5 (6328Hz) with a wooden ringer.
It is a well-proportioned and nicely crafted bowl with finely hammered walls, a rounded bottom, and triangulated lip. There are circles at its centre and several decorative bands forming a collar around the outer rim.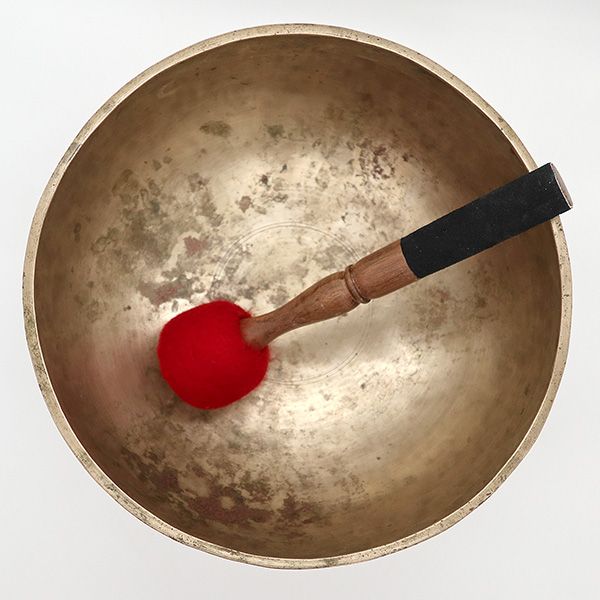 This antique bowl is in excellent structural condition, clean on the outside, but with some staining and copper oxidization on the inside that could probably be removed if desired.
A lovely large antique Jambati with a stunning voice and an incredible sustain!
A Tibetan silk brocade bowl cushion, padded striker, and teak and suede ringer are all included in the price.
RESERVED (J-M)
{audio}jambati2-22.mp3{/audio}
Listen: (4 struck notes and 2 played notes, suede then wood)