Large 11 ¼" Antique Jambati Singing Bowl – Lovely Eb3 (152Hz)
---
---
Antique Jambati Singing Bowl. Note: Eb3 (Solar Plexus Chakra)
Weight 4 lb 13 oz. (2.18 kilos). Size 28.5 x 13.5 cm (11 ¼ x 5 ¼ inches)
Antique Jambati Singing Bowl. Note: Eb3 (Solar Plexus Chakra)
Weight 4 lb 13 oz. (2.18 kilos). Size 28.5 x 13.5 cm (11 ¼ x 5 ¼ inches)
This is lovely old Jambati Singing Bowl has taken a few knocks in its long life, but none that detract from its considerable charm and natural good looks. And it boasts a particularly sonorous third octave Eb (152Hz) with a gentle pulse and nice sustain when struck with a padded mallet or played around the rim with a suede ringer.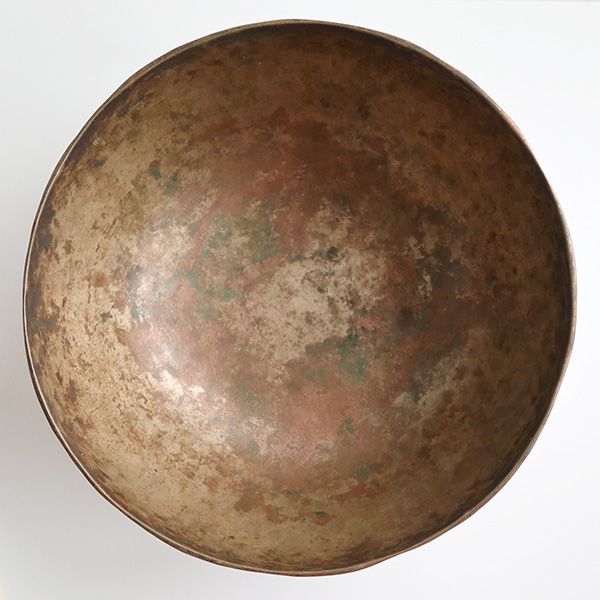 This finely forged bowl has a lovely rounded form with sensually smooth walls inside and out, and a light golden bronze colour. It has a triangulated lip, with decorative bands around the outer rim and circles at the centre. Unusually for this type of bowl there is evidence of some small ritual gashes, or digs, encircling the inner wall just below the lip.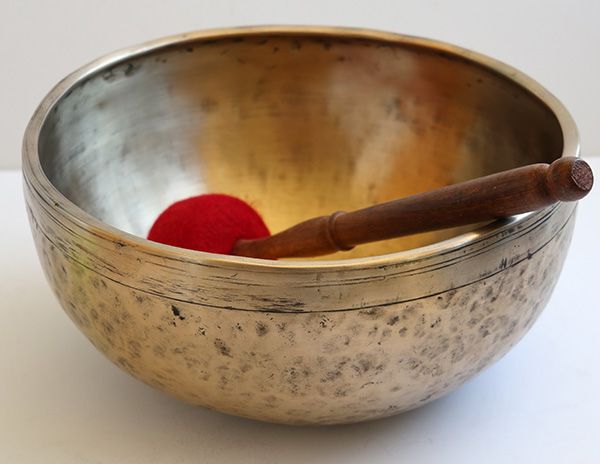 Despite signs of a relatively hard life commensurate with its considerable age, this large antique Jambati singing bowl retains its structural integrity and is clean and stain-free.
A rather lovely old bowl with a beautiful voice!
A Tibetan silk brocade cushion, a padded striker, and a suede ringer are all included in the price.
{audio}jambati2.18eb3.mp3{/audio}
Listen: (3 struck notes and 1 played note)