Large 12" Golden Antique Ultabati Singing Bowl – A2 & G#2
---
---
Antique Ultabati Singing Bowl. Note A2 & G#2. Third Eye & Throart Chakras
Weight 2.32 kilos (5 lb 1 ¾ oz). Size 30 x 15.5 cm (12 x 6 inches)
Antique Ultabati Singing Bowl. Note A2 & G#2. Third Eye & Throat Chakras
Weight 2.32 kilos (5 lb 1 ¾ oz). Size 30 x 15.5 cm (12 x 6 inches)
This large antique Himalayan Ultabati Singing Bowl has a low and vibrant second octave A2 (107hz) fundamental struck note, and a superb G#2 when played around the rim.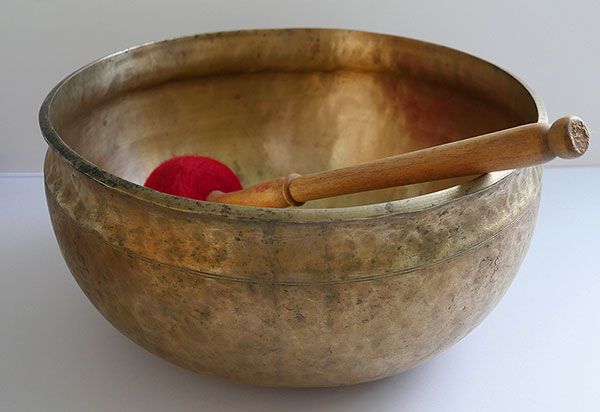 Ultabati bowls have a very distinctive caldron-like form with fine walls, a scooped or flared neck and an out-turned downward-sloping lip. This one also has decorative circles at its centre, and finely incised lines around the shoulder of the outer wall. This bowl is structurally sound. It has a beautiful golden bronze colour with attractive hammer markings.
A Tibetan silk brocade bowl cushion, a padded striker, and a ringer are all included in the price.
{audio}ultabati2.32a2.mp3{/audio}
Listen: (2 struck notes and 1 played note)