Large 12-inch Antique Jambati Singing Bowl – Stunning F#2 (91Hz)
---
---
Antique Jambati Singing Bowl – F#2 (91Hz) Heart Chakra
Weight 2.4 kilos (5 lb 4¾ oz). Size 12 x 5¼ inches (30.5 x 13.5 cm)
Antique Jambati Singing Bowl – F#2 (91Hz) Heart Chakra
Weight 2.4 kilos (5 lb 4¾ oz). Size 12 x 5¼ inches (30.5 x 13.5 cm)
A large and beautiful antique Jambati Singing Bowl with a stunning low second octave F# (91Hz) that is close to concert pitch. The note is the same whether struck with a padded mallet or played with a suede ringer, but an excellent D4 harmonic is also possible. The rim note changes to a D5 (573Hz) if a wooden ringer is used. A heavy suede ringer will produce a vibrant OM sound if required, and this bowl will produce fountains if played with a little water inside.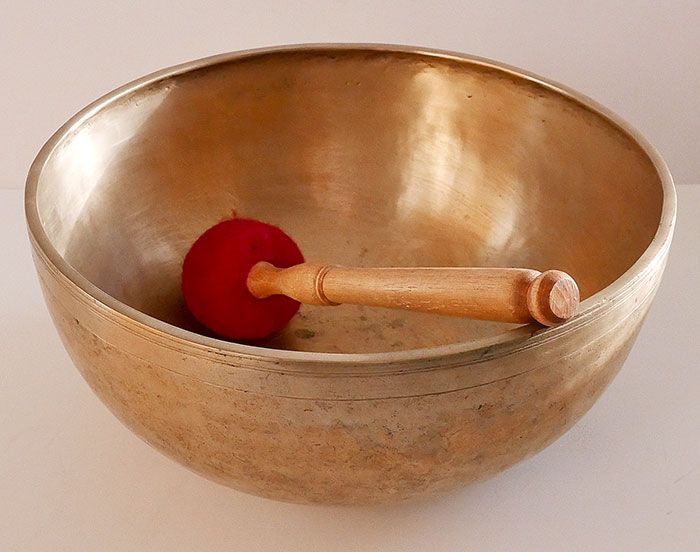 This fabulous lage bowl has been well-crafted, and its fine walls make it relatively light for its size. There are decorative bands around the outer rim and circles at its centre. It has a lovely golden bronze colour, and is clean and structurally sound.

A Tibetan silk brocade bowl cushion, large padded striker, and a heavy ringer are all included in the price.
{audio}jambati2.4fs2.mp3{/audio}
Listen: (2 struck notes and 1 played note)