Large 19th Century Manipuri Singing Bowl with Sun Motifs – C#3
---
---
Antique Manipuri Singing Bowl. Notes: C#3 & F#5 (Root & Heart Chakras)
Weight 912 grams (2 lb 0 ¼ oz). Size 22 x 7.5 cm (8 ½ x 3 inches)
Antique Manipuri Singing Bowl. Notes: C#3 & F#5 (Root & Heart Chakras)
Weight 912 grams (2 lb 0 ¼ oz). Size 22 x 7.5 cm (8 ½ x 3 inches)
This is a large antique Manipuri Singing Bowl with an abundance of decorative artwork including a circle of sun motifs (dots surrounded by circles) at its centre and all around the rim. There is also a pair of decorative incised lines encircling the inner wall a little below the rim. The outer wall retains some forging hammer marks while the interior is smooth.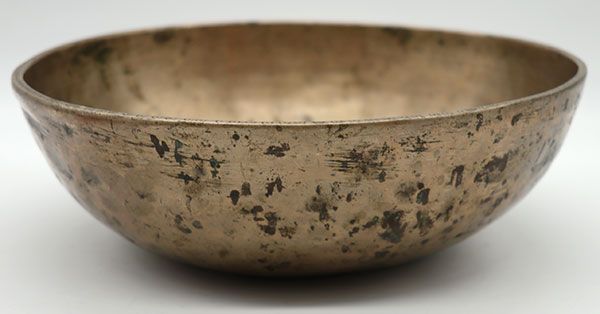 The fundamental note is a third octave C3/C#3 (131-135Hz) when struck with a padded mallet or played around the rim with a suede ringer. The rim note changes to a forth and fifth octave F#4/F#5 (376Hz & 721Hz) with a wooden ringer. It is a responsive bowl and easy to play.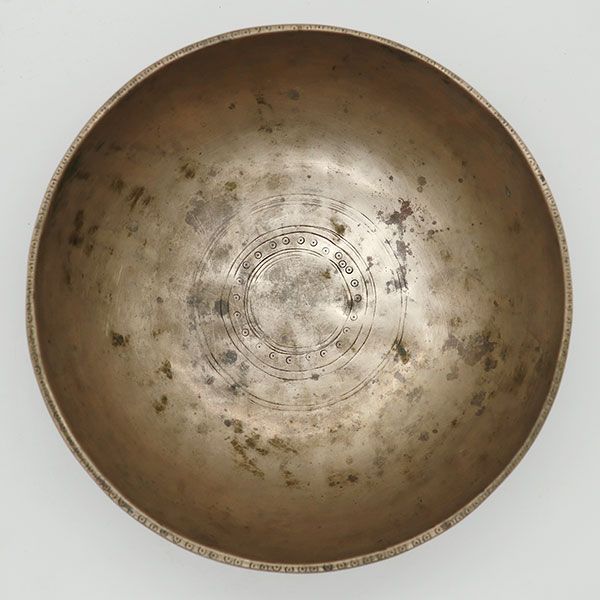 This old 19th Century multiharmonic bowl has seen a lot of use in its time but remains structurally sound and basically clean, but with an aged patina. The darker spots inside could probably be removed with a little effort if desired.
Decorated Manipuri singing bowls of this size are now very rare.
A Tibetan silk brocade bowl cushion and a double-ended teak and suede ringer are included in the price.
{audio}manipuri912.mp3{/audio}
Listen: ( 3 struck notes, 1 played note with suede ringer, and two with a wooden ringer)