Large 9 ¾" Antique Jambati Singing Bowl – Glorious A3 Voice (225 Hz)
---
---
Antique Jambati Singing Bowl A3 (225Hz) Third Eye Chakra
Weight 1.48 kilos (3lb 4 oz). Size 25 x 10.5 cm (approx. 9 ¾ x 4 inches)
Antique Jambati Singing Bowl A3 (225Hz) Third Eye Chakra
Weight 1.48 kilos (3lb 4 oz). Size 25 x 10.5 cm (approx. 9 ¾ x 4 inches)
This lovely antique Jambati Singing Bowl has a glorious pulsating voice in an uncommon and sought-after note, a third octave A (225Hz). Its pulse ranges from 225Hz to 228Hz) and has a long sustain. The note is the same when struck or played with a suede ringer, but if a wooden ringer is used the rim note changes to a stunning and piercing fifth octave F (500Hz).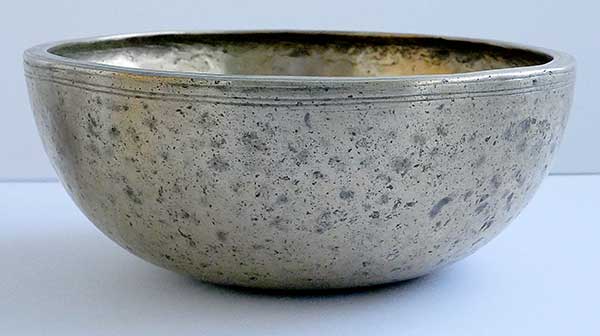 It's a beautiful bowl too, with its low profile and gracefully curved wall that features attractive subtle hammer markings. It has a wide and boldly grooved triangulated lip, circles at its centre and a couple of incised lines forming a collar below the outer rim.
This lovely bowl has been expertly crafted and is in excellent condition, clean and structurally sound. It has a golden bronze colour and the look and feel of antiquity.
A Tibetan silk brocade bowl cushion and a ringer are included in the price.
{audio}jambati1480a3.mp3{/audio}
Listen: (2 struck notes and 2 played notes, suede ringer then wood)