Large 9 ¾ -inch Antique Manipuri Singing Bowl – B2 (121 Hz)
---
---
Antique Manipuri Singing Bowl – B2 (Crown Chakra)
Weight 1.36 kilos (3 lb 0 oz) 9 ¾ x 3 ¼ inches (24.5 x 8 cm)
Antique Manipuri Singing Bowl – B2 (Crown Chakra)
Weight 1.36 kilos (3 lb 0 oz) 9 ¾ x 3 ¼ inches (24.5 x 8 cm)
This is an unusually large antique Manipuri Singing Bowl with a very low second octave B note when struck with a padded mallet or played around the rim with a suede ringer. If a wooden ringer is used the rim note changes to a nice middle octave Eb4. It is very responsive and easy to play.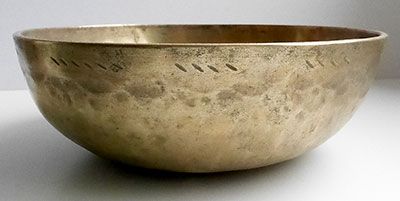 This old bowl (circa 1800) has lots of interesting decorative features…a circle of suns (dot surrounded by a circle) at its centre and also around the lip, a pair of lines encircling the inside wall, and a series of ritual gashes grouped at intervals below the outer rim…all of which are characteristic of early Manipuri bowls.
Manipuri bowls of this size and age are hard to come by, and this is a very nice example.
A teak and suede ringer is included in the price.
Note: Audio clips coming soon.