Large 9-Inch Antique Manipuri Singing Bowl – Low E3 (163Hz)
---
---
Antique Manipuri Singing Bowl – E3 (163Hz) Solar Plexus Chakra
Weight 1.13 kilos (2 lb 8 oz) Size 9 x 2¾ inches (23 x 7 cm)
Antique Manipuri Singing Bowl – E3 (163Hz) Solar Plexus Chakra
Weight 1.13 kilos (2 lb 8 oz) Size 9 x 2¾ inches (23 x 7 cm)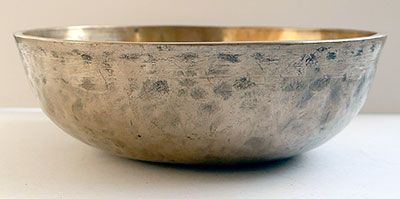 This is an unusually large and heavy antique Manipuri Singing Bowl. It has a low and pulsating third octave E note when struck with a padded mallet or played around the rim with a suede ringer, but if a wooden ringer is used the rim note changes to a nice middle octave Bb (458Hz). It is very responsive and easy to play.
This old bowl (circa 1850) has a smooth golden interior that contrasts with a myriad of eye-catching small hammer marks on its outer wall that reflect the light and remind us of its handmade nature.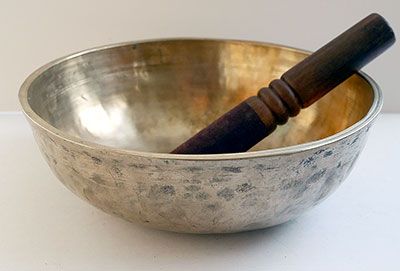 The wall, which is thick and strong, pleasingly flares out slightly towards the rim, which is faintly grooved. Two concentric circles decorate the centre of the bowl, and another two encircle it just below the inner rim.
This superb old bowl is in excellent structural condition and is virtually free of blemishes. Manipuri bowls of this size and age are hard to come by, and this is a very nice example.
A Tibetan silk brocade bowl cushion and a suede ringer are included in the price.
{audio}manipuri1130e3.mp3{/audio}
Listen: (1 struck note and 1 played note)