Large Antique Lingam Singing Bowl – F4 359 Hz – Unusual Form
---
---
Antique Lingam Singing Bowl – F4 (Heart Chakra)
Weight 1.69 kilos (3 lb 11 ¼ oz) 8 ½ x 3 ¾ inches (22 x 9.5 cm)
Antique Lingam Singing Bowl – F4 (Heart Chakra)
Weight 1.69 kilos (3 lb 11 ¼ oz) 8 ½ x 3 ¾ inches (22 x 9.5 cm)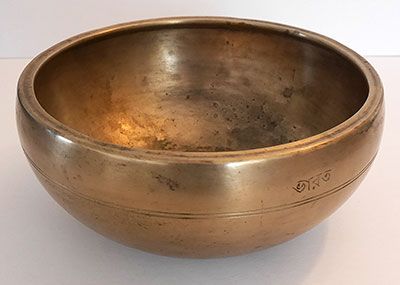 This large and very heavy antique Lingam bowl has an unusual form, with graciously curved low walls, a thick wide lip, and a neat central lingam that is surrounded and defined by multiple concentric circles. There is a shallow naval on the smooth underside. A pair of decorative incised lines encircles the bowl at its widest point about a third of the way down from the rim.
The bowl is in good structural condition, clean on the outside, but with some light staining inside that may be removable if desired.
The fundamental note is a mid octave F (359 Hz) whether struck or played around the rim. It sings best with a hard wooden striker or ringer. A teak and suede ringer is included in the price.
This is a top quality bowl that benefits from a very nice small inscription – a fair indication of its high esteem to a previous owner.
{audio}lingam1690f4.mp3{/audio}
Listen: (3 struck notes and 1 played note)
SOLD