Large Antique Lingam Singing Bowl with Superb Bb3 Fundamental (227Hz)
---
---
Antique Lingam Singing Bowl. Bb3 (227Hz) Crown Chakra
Weight 2 lb 13 oz (1.3 kilos). 21.5 x 10 cm (approx. 8 ½ x 4 inches)
Antique Lingam Singing Bowl. Bb3 (227Hz) Crown Chakra
Weight 2 lb 13 oz (1.3 kilos). 21.5 x 10 cm (approx. 8 ½ x 4 inches)
This rare antique Lingam Singing Bowl has a superb third octave Bb voice (227Hz) when struck with a padded mallet. The Bb3 rim note is powerful and pulsating when played with a suede ringer, and is sometimes accompanied by a subtle fifth octave E (668Hz) harmonic if a wooden ringer is used. It is an extremely responsive and easy bowl to play.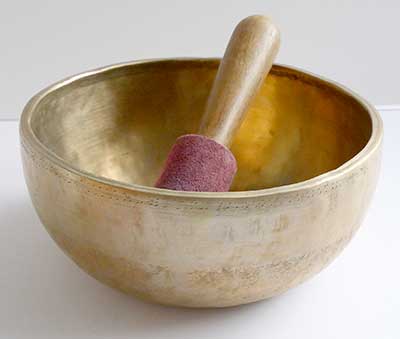 This 19th century bowl is beautifully forged, with thick walls and a grooved lip. It has a large pointed lingam at its centre surround by a set of concentric circles, and there is a deep navel on the underside. There are two bands of decorative dots just below the outer rim and a pair of incised lines encircling the middle of the bowl. The smooth upper half of the wall above these lines contrasts nicely with the more textured surface below.
This lovely old Thadobati is in fabulous and clean condition for its age, the only blemish being a minor (fine line) cut across part of the lingam. It does not impact on the sound or detract from the bowl's beauty. This bowl has a lovely golden bronze colour. A Tibetan silk brocade bowl cushion and a double-ended teak and suede ringer are included in the price.
An unusually large and beautiful premium quality bowl with a fabulous voice!
{audio}lingam1300bb3.mp3{/audio}
Listen: (3 struck notes and 2 played notes, the first with a suede ringer and the second with wood)