Large Antique Remuna Singing Bowl – G#3 and D5 Notes
---
---
Antique Remuna Singing and Fountain Bowl. G#3 & D5 (Throat and Sacral Chakras)
Weight 1 lb 7 ½ oz. (663g). 18 x 9 cm (approx. 7 x 3 ½ inches)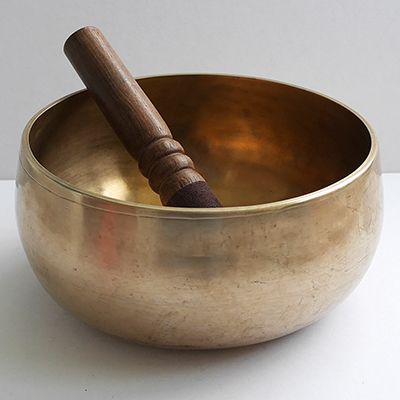 This is a large antique Remuna Singing Bowl with an excellent third octave C# fundamental struck note and a powerful fifth octave D rim note. If the rim note is played slowly with a suede ringer it sings a third octave C# the same as the struck note, but if the speed picks up the D5 harmonic appears, and for a while, the two notes sing harmoniously together. Press on a little more and the C#3 falls silent and the D5 comes gloriously to fullness.
If played with a little water inside it is capable of producing some very nice fountains. As usual for this bowl type, it is very responsive and easy to play.
This is an attractive and well-forged bowl with even walls and a good grooved lip. There is a tiny circle at its centre and a single decorative incised line just below the outer rim. It has the classic Remuna shape and colour, and is in very good condition.
A Tibetan silk brocade bowl cushion and a teak and suede ringer are included in the price.
Note: Audio clips coming soon.