Large Antique Thadobati Singing Bowl – C4 Note
---
---
Antique Thadobati Singing Bowl. C4 (Root Chakra)
Weight 2 lb 3 1/3 oz. (1.01 kilos). 18.5 x 9 cm (approx. 7 ¼ x 3 ½ inches)
Antique Thadobati Singing Bowl. C4 (Root Chakra)
Weight 2 lb 3 1/3 oz. (1.01 kilos). 18.5 x 9 cm (approx. 7 ¼ x 3 ½ inches)
This is a large antique Thadobati Singing Bowl with a nice middle C voice that is the same whether struck with a padded mallet or played around the rim with a suede ringer. It also has a little talking and fountain ability.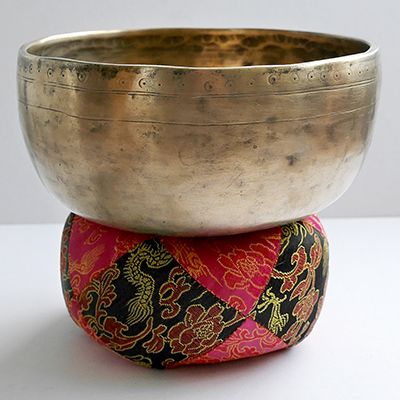 This is an older Thadobati singing bowl that dates from the 19th century, possibly earlier. It exhibits many of the characteristics associated with early bowls of this type including a decorative band of sun motifs (punched dots within circles) below the outer rim. It has a grooved lip, two sets of concentric circles at its centre, and several incised lines encircling the bowl below the band of suns.
It is an attractive and well-forged bowl of generous weight at just over 1 kilo (2 ¼ lb). It has a deep body and high-sided walls that gently curve in towards a wide flat base. The condition of this old bowl is very nice indeed. It is very clean, virtually free of stains blemishes, and has an attractive golden bronze colour.
A very nice example of a top quality older Thadobati bowl with a very nice sound! A Tibetan silk brocade bowl cushion and a teak and suede ringer are included in the price.
Note: Audio clips coming soon.