Large Antique Thadobati Singing Bowl – D4 & A5 With Fabulous Copper-Gold Patina
---
---
Antique Thadobati Singing Bowl. Notes D4 & A5 (Sacral & Third Eye Chakras)
Weight 2 lb 10 ¼ oz. (1.2 kilos). Size 19 x 11 cm (9 x 4 inches)
Antique Thadobati Singing Bowl. Notes D4 & A5 (Sacral & Third Eye Chakras)
Weight 2 lb 10 ¼ oz. (1.2 kilos). Size 19 x 11 cm (9 x 4 inches)
This large and graceful high-walled antique Thadobati Singing Bowl has a beautiful copper-tinged golden surface patina inside and out.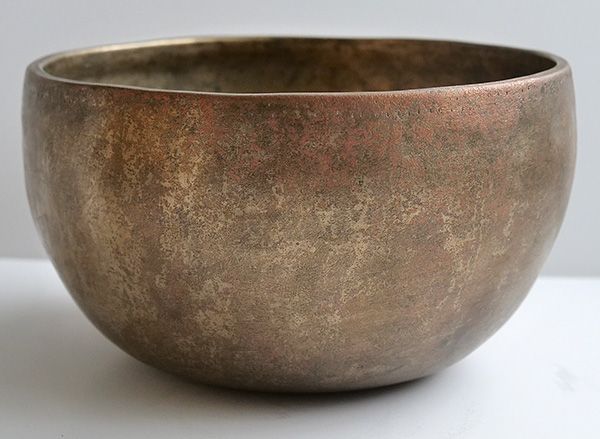 The fundamental note is a middle D (297Hz) when struck with a padded mallet or played around the rim with a suede ringer, but changes to a powerful fifth octave A (858Hz) if a wooden one is used.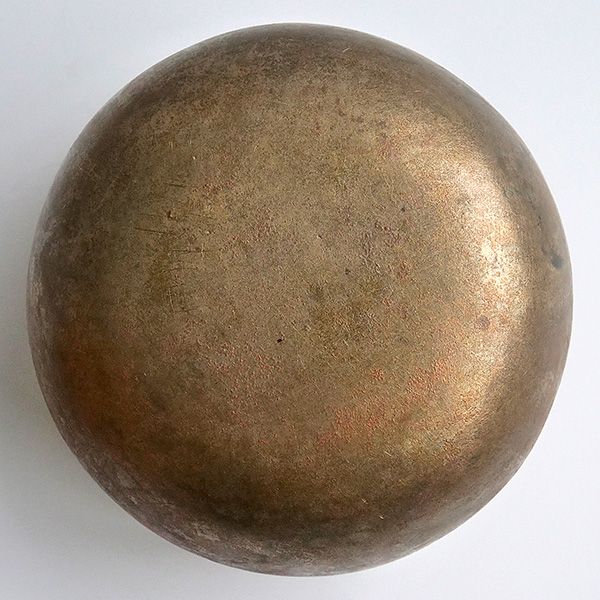 This is a high quality Thadobati with thick even walls and a grooved lip. There are faint circles at its centre and two decorative bands of tiny cuts creating a border around the outer rim. It is in excellent structural conditions, clean and virtually free of stains. It's antique copper-tinged patina adds much to its character and appeal.
A Tibetan silk brocade cushion and a ringer are included in the price.
Note: Audio clips coming soon.