Large Deep-Bodied 12 ¼" Antique Jambati Singing Bowl – Excellent Low G#2
---
---
Antique Jambati Singing Bowl. Note: G#2 (Throat Chakra)
Weight 2.78 kilos (6 lb 1 ¼ oz). Size 31 x 16 cm (12 ¼ x 6 ¼ inches)
Antique Jambati Singing Bowl. Note: G#2 (Throat Chakra)
Weight 2.78 kilos (6 lb 1 ¼ oz). Size 31 x 16 cm (12 ¼ x 6 ¼ inches)
This majestic large deep-bodied antique Jambati Singing Bowl has a fabulous low second octave G# fundamental (106Hz) with a long sustain when struck with a padded mallet. The note is the same G#2 when played around the rim with a suede or wooden ringer. It is also capable of producing fountains if played with a little water inside.
This is a nicely forged bowl with tiny hammer markings to its outer wall and a smooth interior. It has a triangulated lip with decorative bands around the outer rim, and circles at its centre. It is in excellent structural condition, clean and stain-free, with light copper oxidization inside. It has a lovely golden bronze colour.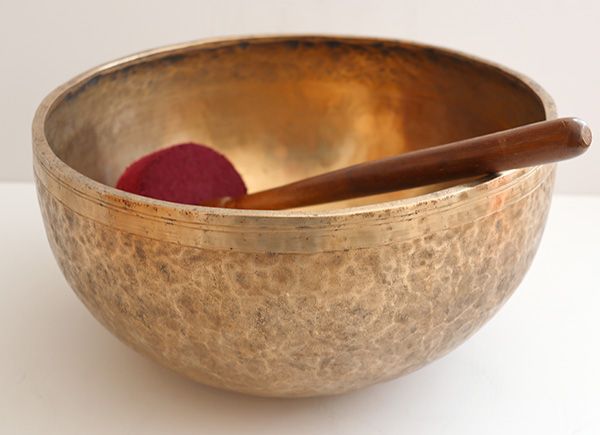 Antique Jambati bowls of this size, weight, and condition are now extremely hard to come by.
A Tibetan silk brocade bowl cushion, padded mallet, and a ringer are all included in the price.
{audio}jambati2.78.mp3{/audio}
Listen: (3 struck notes and 1 played note)