Large Golden Antique Lingam Singing Bowl – Eb4 (303Hz)
---
---
Antique Lingam Singing Bowl. Eb4 (302Hz) Solar Plexus Chakra
Weight 2 lb 3 ¼ oz. (1 kilo). Size 18 x 10 cm (7 x 4 inches)
Antique Lingam Singing Bowl. Eb4 (302Hz) Solar Plexus Chakra
Weight 2 lb 3 ¼ oz. (1 kilo). Size 18 x 10 cm (7 x 4 inches)
This is a large and rare 19th century lingam singing bowl with an excellent Eb4 (303Hz) voice when struck or played around the rim.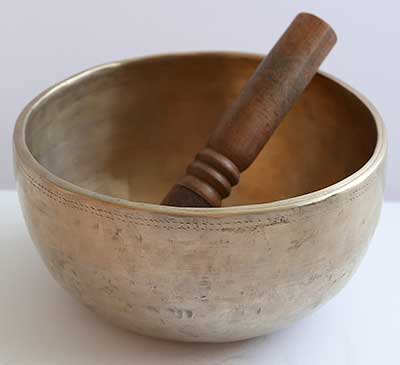 It's a good quality and substantial Thadobati-style bowl with thick and fairly straight-sided walls. It has a good central Lingam surrounded by circles, and a deep navel underneath. There are two rows of decorative cuts around the outer rim, and evidence of ritual gashes around its middle, although these have been worn smooth with the passage of time.
This antique Lingam singing bowl has an attractive golden bronze colour and is in excellent condition.
A Tibetan silk brocade bowl cushion and ringer are included in the price.
Note: Audio clips coming soon.