Large Golden Antique Thadobati Singing & Fountain Bowl – E3 (163Hz)
---
---
Thadobati Singing & Fountain Bowl – E3 (163Hz) Third Eye Chakra
Weight 1.42 kilos (3 lb 2 oz). Size 8¾ x 4¼ inches (22 x 10.5 cm)
Thadobati Singing & Fountain Bowl – E3 (163Hz) Third Eye Chakra
Weight 1.42 kilos (3 lb 2 oz). Size 8¾ x 4¼ inches (22 x 10.5 cm)
This is an unusually large antique Thadobati Singing and Fountain bowl with a good third octave E fundamental with a frequency of 163Hz. This is a versatile multi-harmonic bowl with rim notes that range from a middle Bb (475Hz) to a fifth octave A (905Hz) depending on the ringer used and the method of play. This bowl is also capable of producing excellent splashy fountains if struck or played with a little water inside.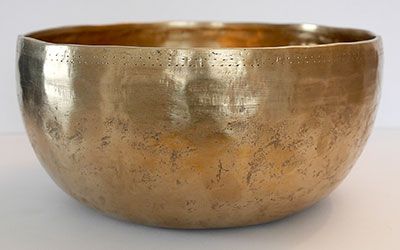 This singing bowl dates from the 19th century and it exhibits many of the characteristics associated with early Thadobati bowls of this type, including a flat bottom, and a curved high-sided wall decorated with two bands of tiny cuts below the outer rim. There are also some concentric circles at its centre.
This is a particularly attractive bowl with lots of surface interest and a wonderful golden bronze colour. It is structurally sound, clean, and free of blemishes. A Tibetan silk brocade bowl cushion and a ringer are included in the price.
{audio}thado1420e3.mp3{/audio}
Listen: (4 struck notes and 1 played note)