Large Golden Antique Thadobati Singing Bowl – Fabulous Pulsating F#3 & Inscriptions
---
---
Antique Thadobati Singing Bowl. Note F#3 (Heart Chakra)
Weight 3 lb 9 ¼ oz. (1.63 kilos). Size 23 x 10 cm (9 x 4 inches)
Antique Thadobati Singing Bowl. Note F#3 (Heart Chakra)
Weight 3 lb 9 ¼ oz. (1.63 kilos). Size 23 x 10 cm (9 x 4 inches)
This unusually large and heavy antique Thadobati Singing Bowl has a fabulous pulsating third octave F# (181Hz) fundamental with a long sustain when struck with a padded mallet. The note is the same when played around the rim with a suede ringer but changes to a fifth octave C# (540Hz) if a wooden one is used.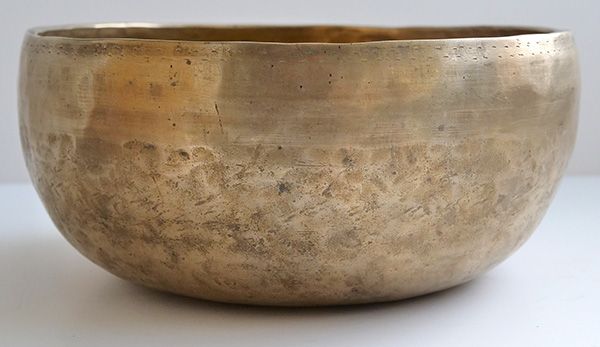 This high quality singing bowl probably dates from the early 1800s and has a particularly nice golden bronze colour. It has a gently curved wall with lots of surface interest, a flat bottom, circles at the centre, and a grooved lip with a decorative border of tiny cuts just below the outer rim. There is a tiny inscription on the outer wall and, unusually, evidence of a much larger dot-punched inscription inside although this is now indistinct. This may well have been an important bowl.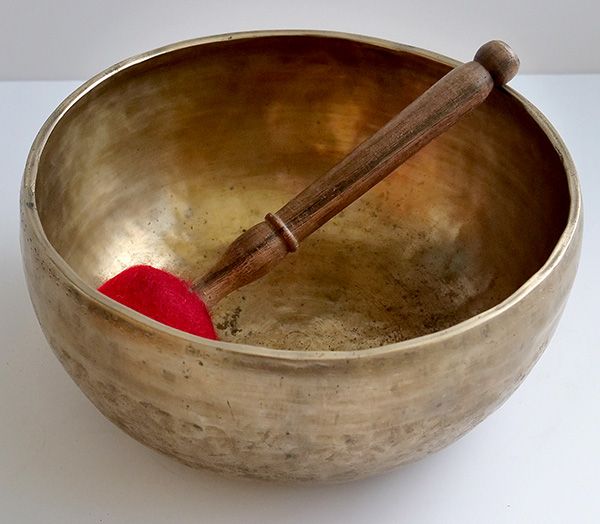 The structural condition of this bowl is excellent. It is clean and virtually free of stains and blemishes.
A Tibetan silk brocade cushion and a ringer are included in the price.
Note: Audio clips coming soon.