Large Premium Quality 10 ¼"Antique Singing Bowl – Concert Pitch E3 & Inscription
---
---
Antique Singing Bowl. E3 (165Hz) Solar Plexus Chakra
Weight 4 lb 7 ¼ oz (2.04 kilos). 26 x 11.5 cm (approx. 10 ¼ x 4 ½ inches)
Antique Singing Bowl. E3 (165Hz) Solar Plexus Chakra
Weight 4 lb 7 ¼ oz (2.04 kilos). 26 x 11.5 cm (approx. 10 ¼ x 4 ½ inches)
This large premium quality Antique Singing Bowl has been beautifully crafted and has great aesthetic appeal with its graceful form and contrasting smooth and hammered surfaces to the outer wall. It is in excellent structural condition and benefits from a small inscription.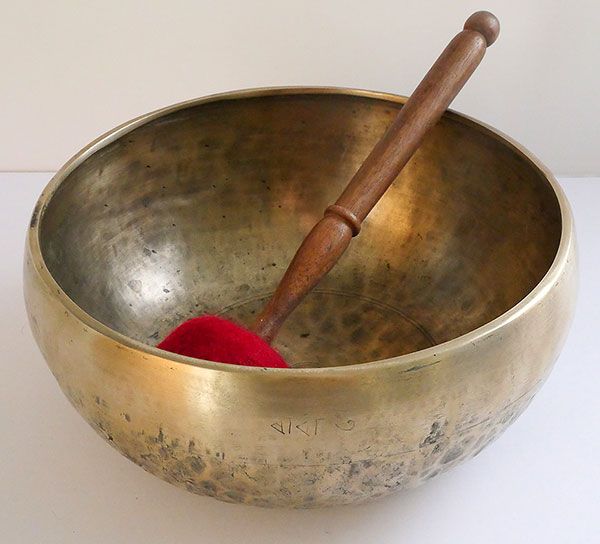 The fundamental struck note is a fabulous pulsating concert pitch third octave E (165Hz) when struck with a padded mallet or played around the rim with a suede ringer. The rim note will also produce fifth octave C (510Hz) if a wooden ringer is employed.
A Tibetan silk brocade bowl cushion and striker and a ringer are all included in the price.
{audio}uthado2.04e3.mp3{/audio}
Listen: (3 struck notes and 2 played notes)