Large Rare Antique Singing, Talking & Fountain Bowl – Unique Form & Concert Pitch
---
---
Antique Singing, Talking & Fountain Bowl. Note Eb3 (155Hz) Solar Plexus Chakra
Weight 1.62 kilos (3 lb 9 ¼ oz). Size 27 x 10 cm (10 ¾ x 4 inches)
Antique Singing, Talking & Fountain Bowl. Note Eb3 (155Hz) Solar Plexus Chakra
Weight 1.62 kilos (3 lb 9 ¼ oz). Size 27 x 10 cm (10 ¾ x 4 inches)
This highly unusual antique singing bowl with its wide splayed rim is particularly versatile. It has a near perfect pitch third octave Eb (155Hz) fundamental when stuck with a padded mallet or played around the rim with a suede ringer, but with a little water inside it is also capable of talking when rocked after striking, and making fountains when played around the rim.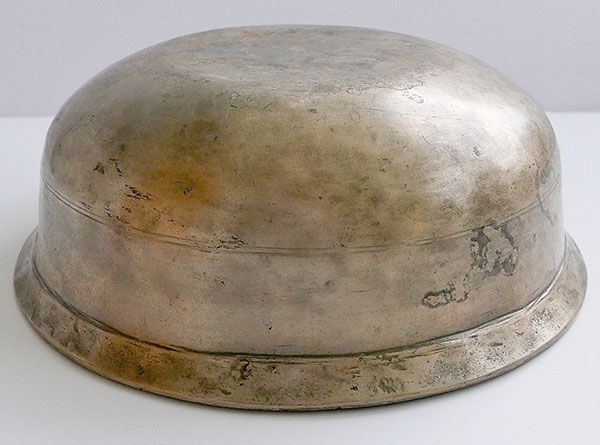 The splayed rim is edged by a fine line close to the inside lip and another a little way down the outer rim. The lip itself also features symbolic ritual cuts at intervals along its edge…a single cut, a set of 4 and a set of 6. Their purpose is unknown, although I sometimes come across such cuts in other antique bowls. Often they are quite deep and make a clicking sound as the ringer passes over, but fortunately these are tiny and do not register or impact on the sound when playing.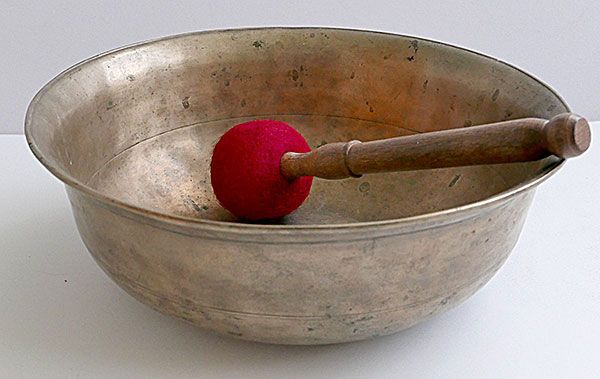 This is a heavy and nicely forged bowl, with fine even walls. Its flat centre is slightly raised and defined by a circle, matched by another underneath, while another band appears half-way up the inside wall. Another pair of lines encircles the bowl's outer wall at the same height.
The structural condition of this extraordinary bowl is excellent, and it is basically clean, with the colour and patina of antiquity. A Tibetan silk brocade bowl cushion, a padded striker and a suede ringer are all included in the price.
The Nepali antique dealer who supplied this bowl said the Newar people sometimes use a similar sacred bowl for serving a woman's Dal Bhat meal during her pregnancy to ensure a safe childbirth, and that they are also used as sacred vessels for making holy water with kusha grass (Desmostachya Bipinnata) for Puja.
A very rare, versatile, and unique antique singing bowl that will appeal to a collector!
Note: Audio clips coming soon.