Large Thick Antique Thadobati Singing Bowl in 'As Found' Condition
---
---
Antique Thadobati Singing Bowl. C#4 (276Hz) Root Chakra
Weight 1.59 kilos (3 lb 8 oz). Size 20 x 10 cm (8 x 4 inches)
Antique Thadobati Singing Bowl. C#4 (276Hz) Root Chakra
Weight 1.59 kilos (3 lb 8 oz). Size 20 x 10 cm (8 x 4 inches)
This large is a large, heavy, thick-walled 19th century Thadbati Singing Bowl in its 'as found' condition. This is quite rare as most antique bowls nowadays have been cleaned and even polished by Tibetan and Nepali dealers before being sold. I personally like bowls like this as they show evidence of their life history and possess the look and feel of their age. A little grime and surface patina rarely seems to impact on the sound quality.
This bowl has a beautiful middle C# voice (276Hz) that is close to concert pitch, and with a noticeable pulse. It's very responsive and easy to play too. The note is the same whether struck or played around the rim with a ringer.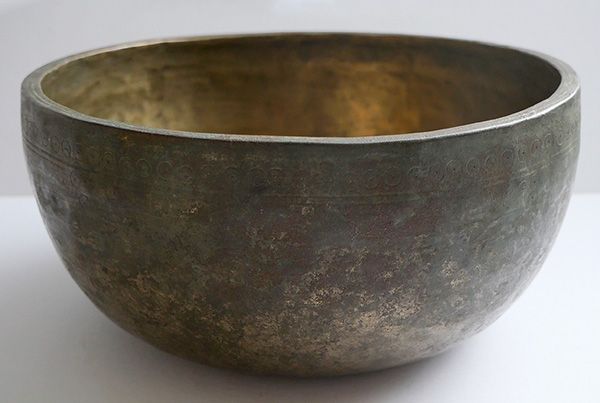 This is an interesting bowl with all its original decorative features intact including a grooved lip, circles at its centre, and a very nice sun motif collar with downward pointing triangles encircling the outer rim. It is structurally good with some copper oxidization here and there, and a small flaked area underneath, but the bowl is so thick it's just a small cosmetic issue. It's one of the nicest old Thadobati singing bowls in my collection!
A Tibetan silk brocade bowl cushion and a suede ringer are included in the price.
{audio}thado1.59c.mp3{/audio}
Listen: (3 struck notes and 1 played note)