Lightweight 10 ½" Antique Jambati Singing Bowl in 'As Found' Condition – Low Bb2
---
---
Antique Jambati Singing Bowl. Note: Bb2 (Crown Chakra)
Weight 2 lb 15 oz. (1.33 kilos). Size 27 x 13 cm (10 ½ x 5 inches)
Antique Jambati Singing Bowl. Note: Bb2 (Crown Chakra)
Weight 2 lb 15 oz. (1.33 kilos). Size 27 x 13 cm (10 ½ x 5 inches)
This large 10 ½" fine-walled antique Jambati singing bowl is surprisingly light for its size, and therefore comfortable to hold and play for an extended period. The fundamental note is a lovely low second octave Bb (115-118Hz) when struck with a padded mallet or played around the rim with a suede ringer. It's a multi-harmonic bowl, and Bb3 (231Hz) and F#4 (360Hz) are also present.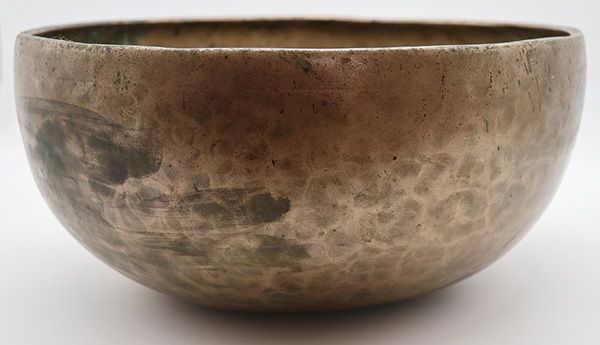 This antique bowl is structurally sound but supplied in its 'as found' condition and therefore grubby, stained, and with some copper oxidization inside. This condition is typical of many old bowls when sourced, before being 'cleaned up' by bowl dealers in the Himalayas.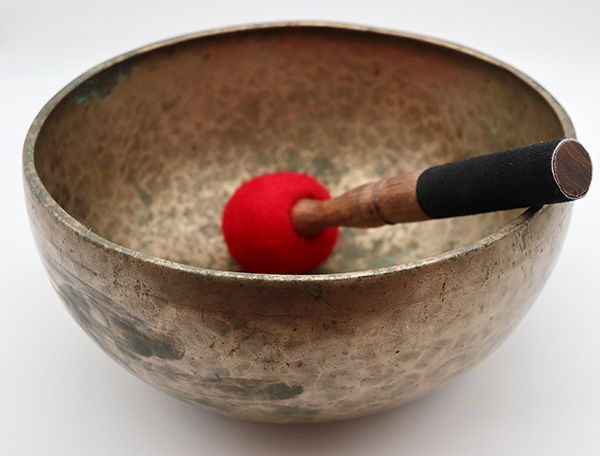 Most people prefer a cleaner bowl, but some like them with their history intact, providing the sound quality is excellent, while others like to restore them themselves. This particular bowl has an attractive form and an excellent low voice. However, the price takes reflects its 'as found' condition.
A Tibetan silk brocade cushion, a padded striker, and a double-ended teak and suede ringer are all included in the price.
{audio}jambati1-33.mp3{/audio}
Listen: (2 struck notes and 1 played note)