Magnificent Heavy Large 12 " Antique Jambati Singing Bowl – F4 (355Hz) & B2 Harmonic
---
---
Jambati Singing Bowl. Note F4 (Heart Chakra)
Weight 3.7 kilos (8.15 Pounds). Size 30.5 x 12 cm (12 x 4 ¾ inches)
Jambati Singing Bowl. Note F4 (Heart Chakra)
Weight 3.7 kilos (8.15 Pounds). Size 30.5 x 12 cm (12 x 4 ¾ inches)
This magnificent and seriously heavy 12-inch antique Jambati Singing Bowl has a middle F fundamental (355Hz) with a nice beat and subtle low second octave B undertone. Although the F4 (355Hz) is the fundamental note it will readily move towards F#4 (360Hz) with a little practice and change of striker. The note is F4 when played around the rim with a suede ringer.
This bowl has a substantial physical presence and something of the wow factor due to its 12-inch diameter and slightly lower than average profile making it appear even bigger than it is. And weighing well over 8 pounds (3.7 kilos) it is by far the heaviest bowl I have come across at this size. Its extra thick wall would have been a considerable challenge to forge. There are circles at its centre, and decorative bands forming a collar around the outer rim.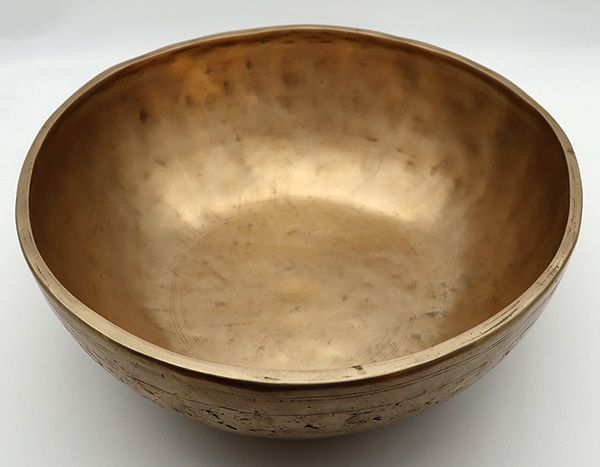 This fabulous large antique Jambati Singing Bowl is believed to date from around 1800. It has a bright golden bronze colour and is in excellent structural condition, clean and free of stains and blemishes.
A Tibetan silk brocade bowl cushion, a padded striker and ringer are all included in the price.
{audio}jambati3-7.mp3{/audio}
Listen: (3 struck notes and 1 played note)