Magnificent, Majestic & Massive 13 ½-Inch Antique Jambati Singing Bowl – Wonderful F#2
---
---
Jambati Singing Bowl. Note: F#2/G2 (Heart/Throat Chakras)
Weight 3.63 kilos (8 lb 0 oz). Size 34 x 16 cm (13 ½ x 6 ¼ inches)
Jambati Singing Bowl. Note: F#2/G2 (Heart/Throat Chakras)
Weight 3.63 kilos (8 lb 0 oz). Size 34 x 16 cm (13 ½ x 6 ¼ inches)
This rare magnificent and massive 13 ½" antique Jambati Singing Bowl is undoubtedly one of the finest of its kind I have encountered in over 30 years of collecting. It has the most impressive and majestic presence physically, and a wonderful low second octave F#2 voice (94.8Hz) when struck with a padded mallet or played around the rim. The F#2 at 94.8Hz is very close to G2 at 95Hz and the note sometimes imperceptively flickers between the two, making one or the other slightly dominant. A subtle D4 harmonic adds further interest.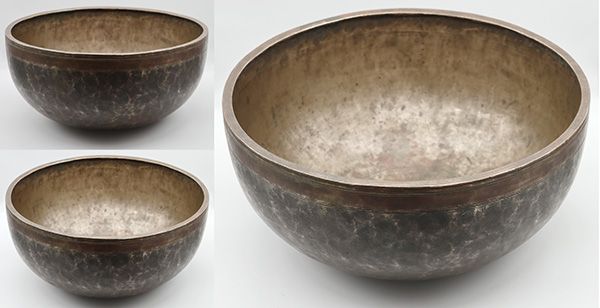 It has a superbly crafted deep-bodied form with a rounded bottom, a triangulated lip with decorative bands encircling the outer rim, and circles at its centre. The structural condition of this huge antique bowl is excellent and it has a fabulous dark bronze colour with an aged patina.
Antique Singing Bowls of this size and quality are exceptionally rare, and were probably associated with a temple or served an important ceremonial function.
This is a truly rare opportunity to acquire a really exceptional and special antique Jambati bowl! It is extremely unlikely that you will find another like it!
A large Tibetan silk brocade bowl cushion, padded striker, and 2 ringers are included in the price.
{audio}jambati3-63f.mp3{/audio}
Listen: (3 struck notes and 1 played note)