Magnificent Rare 9 inch Antique Lingam Bowl – C#4 & Concert Pitch G5
---
---
Antique Lingam Singing & Healing Bowl. C#4 & G5 (Root & Throat Chakras)
Weight 4 lb 1¼ oz (1.85 kilos). 23 x 11 cm (approx. 9 x 4¼ inches)
Antique Lingam Singing & Healing Bowl. C#4 & G5 (Root & Throat Chakras)
Weight 4 lb 1¼ oz (1.85 kilos). 23 x 11 cm (approx. 9 x 4¼ inches)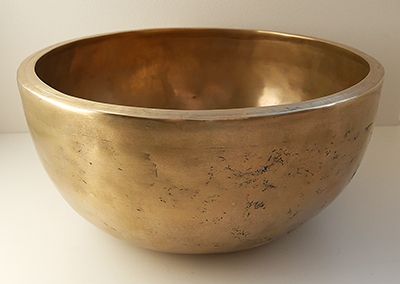 This truly beautiful large antique Lingam Singing Bowl is believed to date from the 18th century, possibly earlier.
The condition of this ancient bowl is exceptional. It is structurally sound, clean, and virtually blemish free, and it has a gorgeous golden bronze colour.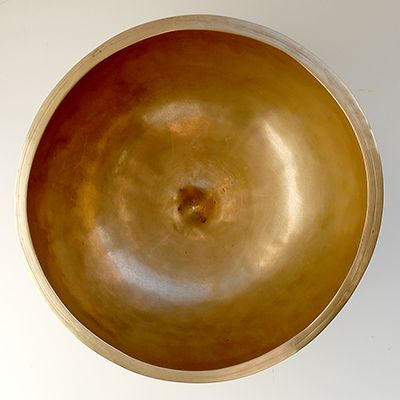 Its curved walls are so smooth to the touch from years of handling and service that it's hard to believe this bowl was originally beaten into shape with hammers! It has a thick grooved lip, a superb pointed lingam at its centre, and a neat navel underneath. There are some faint decorative circles at its centre, and a single line encircles the bowl just below the rim.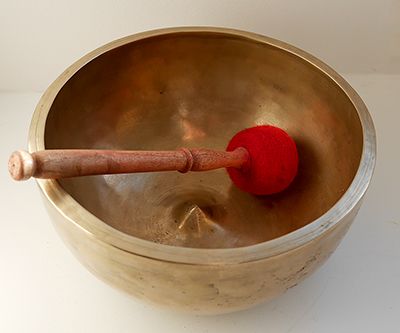 The physical beauty of this bowl is matched by its singing voice…a middle C# (280Hz) when struck with a padded mallet or played around the rim with a suede ringer but it sings a SENSATIONAL perfect pitch fifth octave G (784Hz) when a wooden ringer is used! A padded striker and a double-ended suede and wood ringer are included in the price.
A rare and totally fabulous antique Lingam bowl!
{audio}lingam1850c4.mp3{/audio}
Listen: (2 struck notes and 1 played note)