Magnificent Traditional Ornate Bronze Temple Hanging Bell
---
---
Traditional Ornate Bronze Temple Hanging Bell
Total Length excluding clapper 35 x 23 cm (13 ¾ x 9 inches), Bell 24 x 15 cm (9 ½ x 6 inches)
Traditional Ornate Bronze Temple Hanging Bell
Total Length 35 excluding clapper x 23 cm (13 ¾ x 9 inches), Bell 24 x 15 cm (9 ½ x 6 inches)
I found this magnificent ornate Temple hanging bell in an antique shop in Kathmandu several years ago. I bought it for myself intending to set it up in the garden, but it has proved one task too many so I am selling it and putting the money towards my charity 'One Golden Angel'.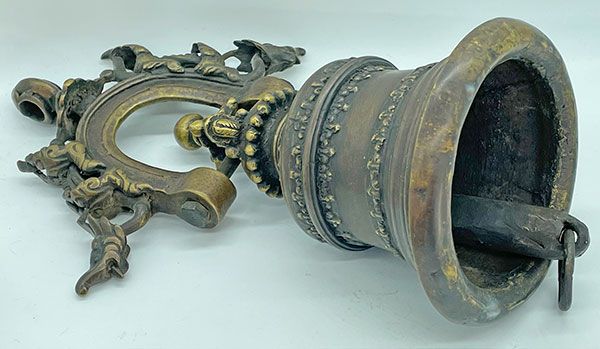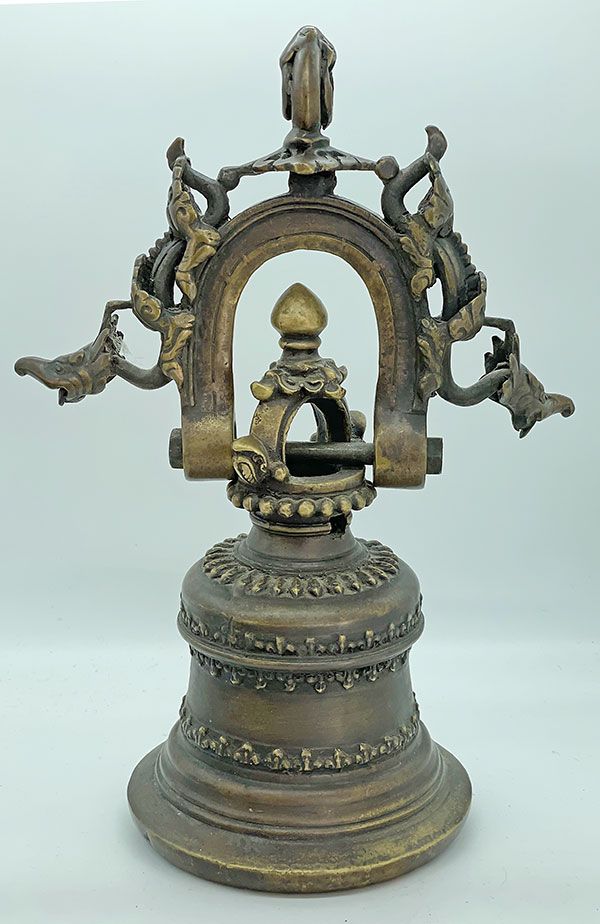 It is very typical of the traditional hanging bells found just inside the entrance to a temple or outside a large street shrine in Nepal and would be rung by visitors to announce their arrival.
It has been cast in bronze, weighs 4.5 kilos (10 lbs), and consists of two main parts, the decorated bell itself, and the ornate cradle from which it is suspended. There is a ring at the top for hanging or threading on a rod. The cradle features a mythical elephant naga on either side. The bell's note is sixth octave G (1535Hz).
I don't think it's particularly old, but traditional Temple Bells like this are normally made to order and not readily available.