Massive 13-Inch Antique Jambati Singing Bowl – Low Eb2 OM Voice
---
---
Antique Jambati Singing Bowl. Eb2 Note (76Hz) Solar Plexus Chakra
Weight 2.28 Kilos (5 lb 0 oz). Size 33 x 15 cm (approx. 13 x 6 inches)
Antique Jambati Singing Bowl. Eb2 Note (76Hz) Solar Plexus Chakra
Weight 2.28 Kilos (5 lb 0 oz). Size 33 x 15 cm (approx. 13 x 6 inches)
This massive antique Jambati singing bowl has a wonderfully low second octave Eb (76Hz) voice with a majestic and pronounced drone-like pulse when struck with a padded mallet.
The rim note is full of vibrant energy and this bowl will produce a beautiful and haunting low OM sound when moderate pressure is applied with a suede ringer. A little more pressure will bring out the normal Eb2 with a subtle third octave B (245Hz) harmonic. Both notes are quite close to concert pitch. This bowl is also capable of producing excellent fountains if played with a little water inside. A padded striker is included in the price.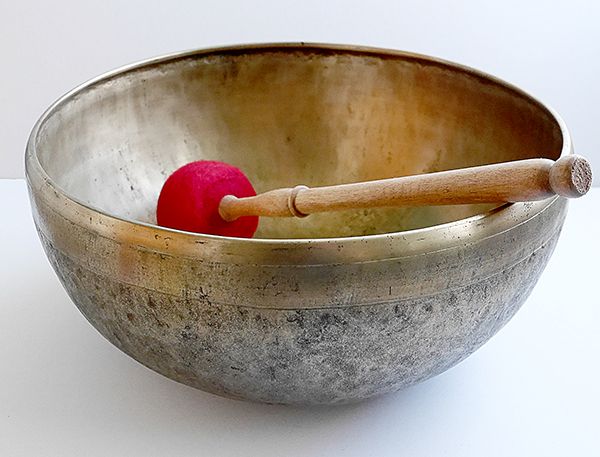 This 19th century bowl has a particularly graceful shape and is beautifully crafted with walls much finer than usual for a bowl of this size making it at least a third lighter, and therefore easier to hold and play for an extended period. There are circles at its centre and incised lines below the rim that form a deep decorative collar.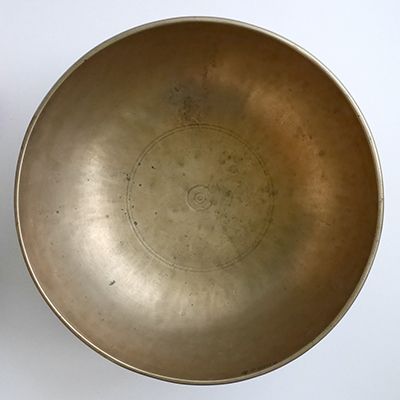 The bowl is in excellent structural condition. It is basically free of stains and blemishes and has a nice golden colour. The only minor cosmetic issue being an old surface scratch across part of the inner wall which does not in any way impact on the sound or overall beauty of the bowl.
{audio}jambati2280e.mp3{/audio}
Listen: (2 struck notes and 1 played OM note)