Massive 14 ½" Antique Jambati Singing Bowl – Wonderful Bell-Like F2/F#2 Voice
---
---
Antique Jambati Singing Bowl. Note F2/F#3 & B3 (Heart & Crown Chakras)
Weight 4.86 kilos (10 lb 11 oz). Size 37 x 12 cm (14 ½ x 4 ¾ inches)
Antique Jambati Singing Bowl. Note F2/F#3 & B3 (Heart & Crown Chakras)
Weight 4.86 kilos (10 lb 11 oz). Size 37 x 12 cm (14 ½ x 4 ¾ inches)
This massive 14 ½ inch Antique Jambati Singing Bowl (circa 1800) weighs in at almost 5 kilos (nearly 11 pounds) and has thick walls and a rare low profile with a well-defined flat bottom. There is a single decorative line encircling the inner and outer rim.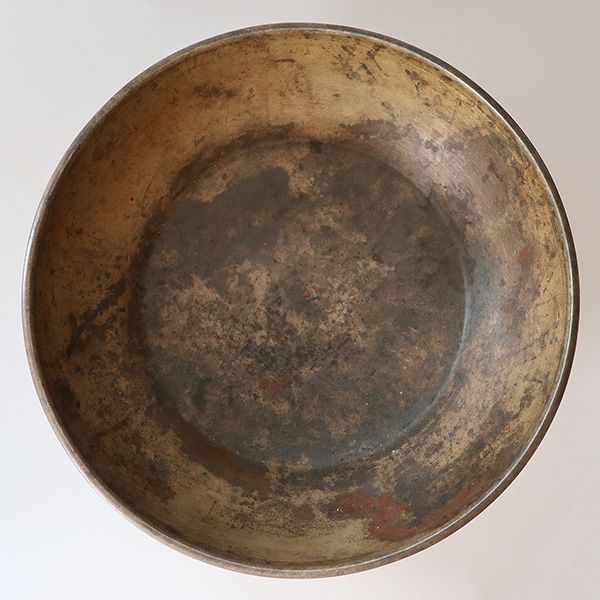 The struck note is a rather haunting and bell-like second octave F/F# (89/90Hz) fundamental with a subtle B3 or Bb4 harmonic with a padded mallet, while the rim note is a second octave B (245Hz) with a suede ringer.
This extremely rare large bowl is in excellent structural condition and its beautiful colour and aged patina adds to its look and feel of great antiquity.
This is a unique opportunity to acquire a very rare, massive, and significant antique singing bowl.
{audio}jambati4.86.mp3{/audio}
Listen: (3 struck notes and 1 played note with suede ringer)