Medium 9" Antique Jambati Singing Bowl – Fabulous D3 (146-148Hz)
---
---
Antique Jambati Singing Bowl. D3 & A4 (Sacral & Third Eye Chakras)
Weight 1.05 kilos (2lb 5 oz). Size 23 x 10.5 cm (approx. 9 x 4 inches)
Antique Jambati Singing Bowl. D3 & A4 (Sacral & Third Eye Chakras)
Weight 1.05 kilos (2lb 5 oz). Size 23 x 10.5 cm (approx. 9 x 4 inches)
This medium size antique Jambati Singing Bowl has considerable aesthetic appeal with its perfect proportions and superb craftsmanship. Its finely hammered exterior wall has been worn beautifully smooth over time, and contrasts well with the attractive mottled surface of the interior. It has a triangulated lip, a faint circle at the centre and a decorative band around the outer rim.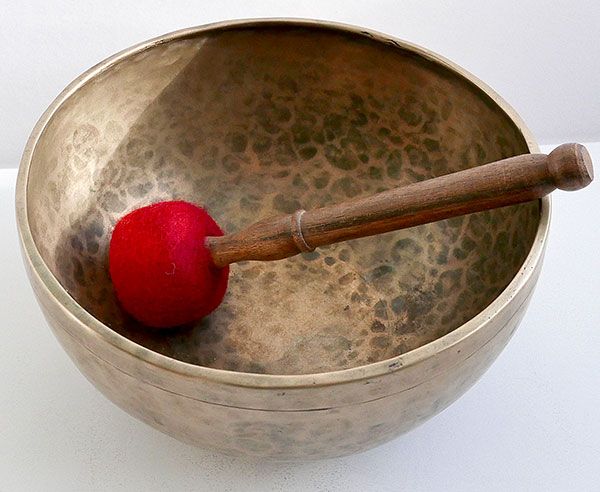 The fundamental note is a fabulous third octave D (146 – 148Hz) when struck or played around the rim with a suede ringer. The rim note changes to a middle octave A (448Hz) if a wooden ringer is employed.
This antique bowl is essentially structurally sound, clean and free of stains, but at some time in its life it has suffered a couple of knocks to the top and inner edge of the lip. However, these are tiny cosmetic issues and do not impact on the general beauty of the bowl or its sound. Nonetheless, I have reduced the price accordingly so that this lovely old bowl now represents excellent value.
A Tibetan silk brocade bowl cushion, a padded mallet and a ringer are all included in the price.
{audio}jambati1.05d3.mp3{/audio}
Listen: (2 struck notes and 2 played notes, suede then wood ringer)