Medium 9 ¾ Inch Antique Jambati Singing Bowl – Pulsating F#3 (186Hz)
---
---
Antique Jambati Singing Bowl. F#3 (186Hz) Heart Chakra
Weight 3 lb 5 ½ oz (1.52 kilos). Size 24.5 x 12.5 cm (approx. 9 ¾ x 5 inches)
Antique Jambati Singing Bowl. F#3 (186Hz) Heart Chakra
Weight 3 lb 5 ½ oz (1.52 kilos). Size 24.5 x 12.5 cm (approx. 9 ¾ x 5 inches)
Jambati Singing Bowls of this size are much in demand as they are easier to hold and play than the larger and heavier bowls whilst still being capable of producing the lower notes that are common to this bowl form.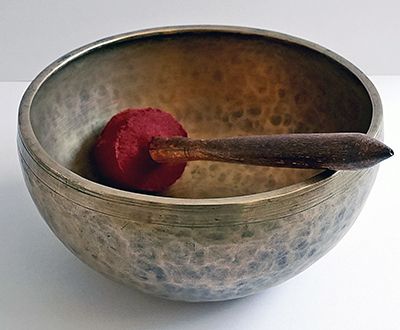 This particular bowl has an excellent low and pulsating fundamental third octave F# voice with a long sustain. With a frequency of 186Hz this bowl is quite close to concert pitch.
The note is the same whether struck with a padded mallet or played around the rim with a suede ringer, but the rim note changes to a fifth octave D if a wooden ringer is employed. A Tibetan silk brocade bowl cushion, a small padded striker, and a ringer are all included in the price.
This is a good quality and nicely balanced antique bowl in excellent and clean condition. There are decorative circles inside and a pair of incised bands forming a collar below the outer rim. Both inside and outside surfaces are attractively and subtly mottled with forged hammer marks that have been worn smooth with the passage of time.
A fabulous and sonorous example of this lovely bowl form!
{audio}jambati1.52fs3.mp3{/audio}
Listen: (3 struck notes and 2 played notes, suede then wood ringer)